Learie Hercules — a.k.a. "Herc" – could often be found tinkering with electronics at his home in Trinidad & Tobago Caribbean. Over the years, his penchant for technology transformed into a thriving career, enabling him to cultivate multiple tech start-ups and become a pioneer in the supply chain space. And today, we're grateful Herc calls Smart Warehousing home.

Herc has always been passionate about people, products, and processes, with more than 15 years of experience spanning lean methodology, design thinking, big data, AI, cloud computing frameworks, analytics, and visualization frameworks.

Today, he sits on the Advisory Board for the Southern Data Science Conference and is a mentor for Techstars, a global investment business focused on making innovation and entrepreneurship more accessible and inclusive. With an educational background in electrical engineering, computer science, management, and human resources, Herc has built a career around enriching lives through the use of technology.

Now Herc is at the helm of Smart Warehousing, bringing his vision and expertise to his role as the Chief Technology Officer. Join us as we get to know Herc, explore his passions, and see why he has no plans of slowing down.
Organizational Culture
As a disrupter in the 3PL space, Herc believes the organization's culture, people strategy and technology stack are pivotal to moving the needle forward. "The goal is to attract individuals who are driven, intellectually curious, and hungry to learn," Herc says. To continually evolve as an organization requires people who share the company's values, have a strong sense of teamwork, and whose sense of identity is tied to discovery.
Working to establish a foundation as a product-driven organization, Herc says, "We are keeping a pulse on where the market is going and how we factor into and drive that progression to accelerate our business. We are also striving to understand the impact of technology — how it disrupts existing markets and how it can be leveraged to establish new revenue streams."
"I think what we're doing is very special," Herc continues. "We're able to attract a lot of people who are drawn to the magnitude of the challenges we're tackling and the positive impact we can make on society as a whole. We want to continue building a pipeline of talent within the space that can see new tech, create new tech, and not be intimidated by tech. So, for me, it's really about being human-centered."
IoT & The Logistics Space
Among Herc's many passions is the IoT (that's the Internet of Things). The IoT framework is already transforming the industry, Herc shares. But there's still a gap in the architecture side, which isn't keeping up with the changing ecosystem. We've seen machine learning begin to mature in a number of ways. One way is through the delivery of real-time predictions.
A bulk of wearable devices and edge devices, like autonomous mobile robots, used within the warehouses can stream real-time data to back-end systems. However, most supply chain systems were not engineered to consume streaming data at high velocity to create real-time actionable insights. At the epicenter of these platforms is a monolithic database infrastructure that isn't built on an event-driven technology framework.
As a result, Herc explains, we're seeing many companies performing end-of-day or end-of-week analytics (in lieu of real-time) because they don't have the capacity to ingest the data captured by all of these IoT devices. BI reports thus have been the mainstay in the industry, cobbled together from multiple sources to give a view of what happened.
Recognizing this void, we developed an event-driven architecture at Smart Warehousing that can successfully ingest high-speed, high-magnitude data. The infrastructure also includes serverless autoscaling to dynamically allocate resources as data volumes fluctuate to maintain performance levels. Data engineering is also our core competence as extracting, transforming, and loading data through automated data pipelines leads to scalability without a lot of the maintenance overhead. The technology drives greater visibility across the supply chain, leading to leaner, more efficient practices.
Driving Innovation
It's not just the product that holds all the value — it's the deployment, tracking, and asset management of it as well. Innovation is another of Herc's key passions. Some robotic companies, for instance, have implemented their own back-end systems that perform real-time data streaming. But that system still needs to be integrated with the logistics company's back-end system. Oftentimes, this back-end system on the logistics side isn't API driven. And so there's a component of the API design, and API-driven businesses, that is lacking within the space as well.
So, while value can be provided from a technology perspective, Herc is taking it a step further by creating a business model around it to drive new opportunities for companies. "We take several things into consideration, like the deployment of it and measuring the ongoing behaviors and activities of the user," he shares. "And then delving into conversations around what problem are we trying to solve. What is the desired outcome for the company using the technology? Is it to maintain existing margins? Does it serve as a competitive differentiator? Is it the ability to respond to any changes or disruptions within the supply chain?"
The Future of Transportation of Goods
We typically think about transportation as the movement from point A to point B – whether that be people, goods, or services. But for the industry to continue forward momentum, Herc encourages viewing transportation through a different lens.
"As the industry evolves, however, we need to broaden that definition to encompass the movement of both A and B," Herc explains. "Take the ridesharing economy: they've moved both A and B dynamically, but it now takes machine learning to optimize supply and demand."
"Fulfillment today operates on the traditional A to B mentality because the majority of goods are housed in a physical location, like a warehouse or fulfillment center, which is static in nature," he says. "As we look towards the future, we're going to have to use forecasting models on geographic demand to get A closer to B, as well as B closer to A."
"For example, we spend approximately eight hours a day at work, right?" Herc explains. "So let's designate the workplace as location C and assume we spend a few waking hours at home after work. That leaves a narrow window of opportunity to get something from point A to point B when we're at home."
In the future, once we categorize the product type – i.e. is it an ambient product? A frozen product? – then we can accommodate a dynamic situation. Shopping can be done in a dynamic location and the product can be delivered to location C (the workplace) rather than leaving to visit a grocery store, pickup locker, or even wait to receive the package at home.
This dynamic nature of mobility will have far-reaching effects on the staging of products and the types of products being delivered. "We see the future of logistics adopting this ideology," Herc explains. We've already begun exploring mobile fulfillment centers and network optimization to move products closer to the demand versus solely staging products in a physically fixed warehouse. So the future of transport from the consumption side will be more dynamic.
From the supply side, there's a lot of experimentation around different modes of transportation. This, of course, would be contingent on the type of product and its size – i.e. a smaller, lighter package could potentially be delivered via drone. Food and downstream impacts would need to be considered to make this possible, like what's powering the drone, traffic-related challenges, and how long it can last in the air. Conducting a vacuum test can be effective, but engaging these new modes of transport will require more collaboration with regulatory bodies.
"It's also incumbent on the tech companies to work in tandem with cities and states to ascertain what the future of work looks like for the populations being served," Herc says — because there are financial implications, like taxes, to consider. "If we have autonomous vehicles, for instance, how will that impact a city or state's tax base? So several downstream collaborations need to occur between tech companies and the population to ensure a net positive societal impact as technology and transportation modes change."
Benefits for Smart Warehousing Clients
At Smart Warehousing, we are highly conscious of our choices and how we're providing restorative and positive impacts on society, people, and the planet as a whole — and Herc shares this passion. "We want to ensure that we're a net positive organization – whether that's through capacity building in the general population, decreasing environmental impact, or promoting equity in the workplace," he says.
Today's consumers want to buy from brands that are socially conscious and provide premium goods (i.e. nutritious food options vs. fast food). "We want to ensure we're aligning ourselves with these brands' values and providing them with a pathway to scale their business and drive operational efficiency," Herc explains.
How we leverage transportation will evolve with demand as well. "For instance, we're seeing a rise in regional and last-mile delivery carriers," he says. "And so the conversation is shifting to focus on how we leverage that market to ensure there's both economic distribution and positive environmental impacts."
Our goal is to enable innovation, not just consume it. "We actively monitor things like the Apache Foundation and the Cloud Native Computing Foundation, evaluate what software products are incubating, how tech companies are solving the same problem in different ways and understanding their perspectives, what gaps are technology designed to solve, what gaps existed within the space to be solved, etc.," Herc says. "So it's about creating that level of engagement internally to foster innovation and actively engaging with our external partners."
Moving Forward
Under Herc's leadership, Smart Warehousing will continue to utilize technology to deliver high-value impact and propel the industry forward. We are always looking to innovate and expand our capabilities. From our Smart Replenishment program (which allows businesses to scale their inventory with last mile delivery to meet fluctuating demand quickly) to our cloud-native platform built from the ground with an event-driven architecture to drive greater visibility and efficiency across the supply chain.
Join us going forward as Herc himself shares his insights on the future of our industry, his deep passion for people and processes, as well as our corporate endeavors to innovate.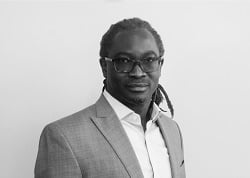 Learie Hercules
Learie aka "Herc" has vast experience with next-gen technologies and automation. He has worked with multiple wireless technologies, IoT and cloud platforms with a focus on Big Data, AI, and Machine Learning, for some of the largest wireless carriers and Smart Cities in the world.