When companies make the decision to outsource their logistics needs, they are left with another tough decision: should they use a 3PL or 4PL provider? These logistics providers are similar but offer different services and meet different needs for businesses. You will want to look at both and decide which one would better be suited for your business. Let's take a closer look at the differences between 3PLs and 4PLs.
What Is a 3PL?
A third-party logistics company, or 3PL, offers various logistics services to companies who need to store, ship, and transport their products across the country. Third-party logistics companies help with warehousing, order fulfillment, inventory management, and freight transportation. To put it simply, a 3PL gives businesses the ability to store and deliver their products without their own warehouse and internal fulfillment team.
A majority of 3PLs will have warehouses, where they can both store products and distribute businesses products to consumers quickly. This is especially beneficial for businesses that don't have the ability to rent or buy their own warehouses or staff a fulfillment team. A good 3PL will also have technology or a warehouse inventory management system that gives visibility to you as a business owner on what your current inventory levels are.
A few key jobs for 3PLs include:
Warehousing & Storage
Picking and Packing
Order Fulfillment
Shipping and Delivery of Goods
Freight Forwarding
A good 3PL provider can help you store your goods and fulfill orders while also managing your inventory. Smart Warehousing is a 3PL provider that offers specialized technology and a national network of warehouses. Smart Warehousing has 20 years of experience and has omnichannel capabilities, with an ability to handle both eCommerce and retail.
What Is a 4PL?
A 4PL, or fourth-party logistics provider, doesn't manage the physical logistics for your business. A 4PL typically outsources the management of physical logistics to a 3PL, and then handles supply chain optimization and works as a consultant for your logistics needs. They can help you identify areas of the supply chain that may need changes or can identify areas that are successful. They can also give you conclusive reports with suggestions and new strategies.
A few of the tasks that 4PLs tackle include:
Consulting
Data and Analytics
Asset Management
Logistics Strategy
Inventory Planning
Sourcing
A 4PL is usually more beneficial to large companies with complex supply chains due to their experience with logistics optimization. However, that doesn't mean that smaller companies can't benefit from working with a 4PL.
When you work with a 4PL, it is important to remember that they are likely working with 3PLs to provide you all of the services that you need, becoming a middleman in your logistics chain. And often, 3PLs offer some of the services that 4PLs are known for without requiring an additional outsourced partner for your business.
3PL vs 4PL
We get a lot of questions about 3PLs and 4PLs, because they seem very similar to those on the outside. However, the focus of each entity is a little different and are meant to meet different needs for a business. Let's take a look at the key differences.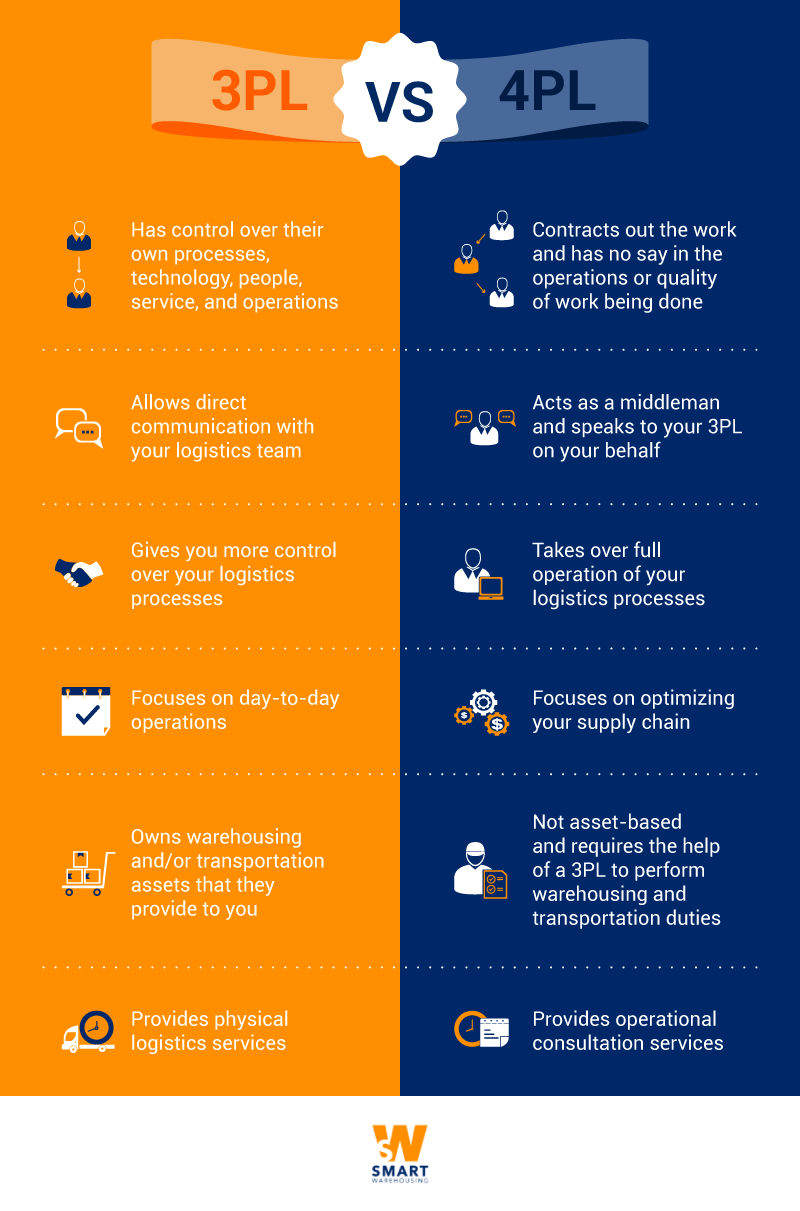 Should I Use a 3PL or 4PL?
Deciding between a 3PL and a 4PL comes down to your basic needs. Working with a 3PL gives you direct access to your warehousing and fulfillment teams, while 4PLs act as a middleman between your business and a 3PL. This might be beneficial for some businesses, but for many, having a direct line to the fulfillment team and technologies backing your inventory management is critical.
It can be difficult to give up control of your logistics processes, but when you work with a trusted 3PL like Smart Warehousing, you are in good hands. At Smart Warehousing, we can customize our services to best fit your needs. To learn more, contact us today.