If you've ever gone apple or strawberry picking, then you know exactly how delectable fresh produce can be. Now imagine plucking that ripe strawberry, packaging it, and transporting it across several facilities until it reaches its final destination on a customer's doorstep. This is where we find the challenges of food and beverage logistics.
Despite the 20+ times that the strawberry will be handled during its journey through fulfillment – including variables like shipping and the ambient conditions in the field – consumers expect that tasty fruit to be delivered ripe, fresh, and ready to eat. Wilted? Moldy? Say farewell to that customer (and to your good reputation too).
Food supply chains and inventory management are highly complex, as perishables need to be optimally managed and kept within a temperature-controlled environment from production through storage and distribution. Food and beverage logistics require a highly strategic approach that factors in several crucial elements, like compliance and safety standards, technology, and temperature-controlled fulfillment practices.
According to Fortune Business Insights, the cold chain logistics market (including food and beverage logistics) is projected to hit $647.47 billion globally by 2028, growing at a CAGR of 15.1% annually. Two main factors have driven this tremendous growth: increasing consumer demand and the rising need for greater temperature control to circumvent food losses.
Due to the demand, value, and temperature sensitivity, brands selling perishable goods must implement a well-crafted cold chain monitoring strategy (including inventory management) to improve visibility and ensure products are handled and stored properly through every stage of the supply chain.
Challenges of Food and Beverage Logistics in the Supply Chain
From vaccines and biologics to meal-prep kits, meats, and dairy products, businesses with temperature-sensitive goods contend with more challenges than those outside the food and beverage logistics space. Implementing tactics that safeguard perishables and prevent product spoilage as they're moved from storage, packaged, and shipped to the end consumer is vital for evading financial losses and delivering an optimal customer experience.
An effective loss prevention strategy requires close monitoring of food and beverage logistics conditions inside a truck or container during transportation, as well as the environment within a warehouse. To do so requires real-time supply chain visibility, inventory management, and tracking solutions that can successfully capture pertinent data like product temperature, location, and other related environmental conditions.
In addition to real-time visibility, successful inventory management within the cold chain space presents several other obstacles for businesses today, including:
Fierce Competition:

Whether you're e-commerce, B2B, or B2C, today's brands are vying for consumers' dollars, attention, and loyalty. There's no sugarcoating it: the competition is intense. Consumers have a myriad of options at their disposal – meal delivery kits, niche marketplaces for things like bulk meat orders, and a multitude of players in the pharmaceutical space. It's a battleground that businesses must proactively navigate to maintain a competitive edge and drive scalability.

Fresh Is in Demand:

Whether you're operating physical retail spaces or delivering ready-made meals to customers, today's consumers have an insatiable appetite for grab-and-go and all things fresh. This growing trend adds new layers of complexity to the cold chain, as temperature-controlled products can't follow standardized supply chain practices or house large-volume inventory in one location for an extended period. All processes must center on preserving the integrity and quality of sensitive goods from production to distribution to meet customer expectations and maintain profitability.

Data and Predictive Analytics:

It's no longer enough to simply use holidays or seasonality as a basis for managing inventory. Real-time analytics and predictive modeling are integral for optimizing order fulfillment, decreasing expenditure, maintaining inventory stability, and tapping into tangible market gains. Plus, data provides crucial insight into supply and demand and allows businesses to house inventory in critical markets closer to the end consumer.

Specialized Labor:

Everything from preserving products to complying with regulatory standards requires access to workers with expertise in the cold chain space. Additionally, adopting new food and beverage logistics technologies will need the right talent to oversee implementation and rollout. And to put a nail in the coffin, a nationwide talent shortage is making it even more challenging for businesses to acquire the right skills and expertise. With the right fulfillment and logistics partner, however, specialized personnel with experience in the cold chain space will be at your disposal – saving you time and money while preserving your perishables.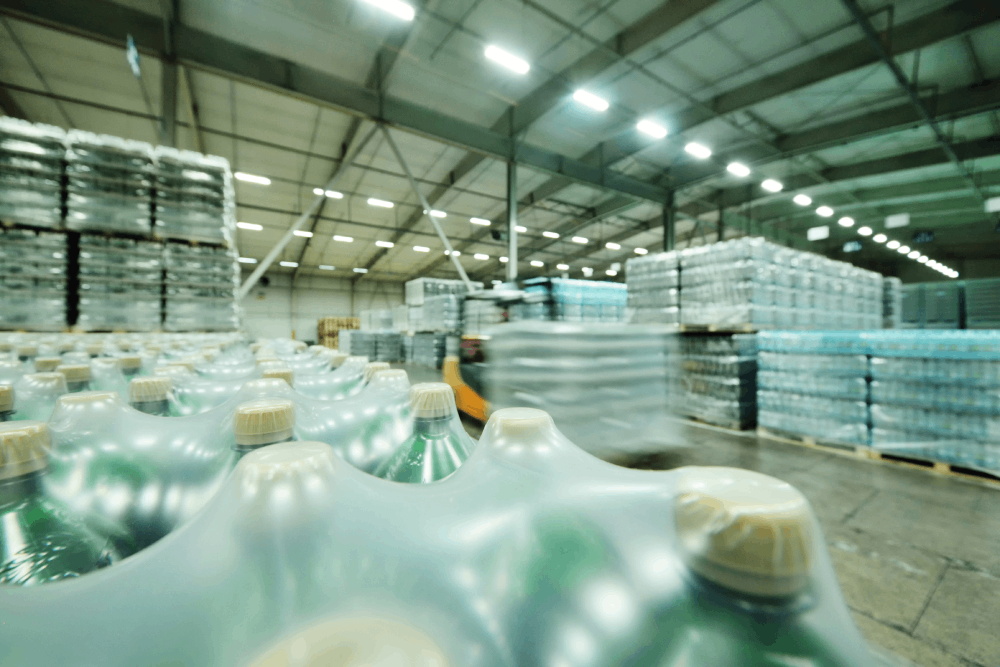 How Technology Drives Efficiency and Visibility in Food and Beverage Logistics
A bulk of these food and beverage logistics obstacles can be eliminated simply by embracing technology-driven solutions. Perishable food supply chains are undergoing a fundamental shift and becoming increasingly digital for inventory management and more. The reason? Everyone from stakeholders to customers demand instant access to information – whether it's tracking a shipment or deeper insights into sales trends.
Tech stacks can vary from company to company and can be complex. A robust analytical infrastructure requires access to innovative technology and the ability to integrate your systems with that of your logistics partner. Whether an ERP system or an e-commerce solution, these systems must be able to communicate and share data in real-time to eliminate unwanted errors and ensure all supply chain partners are aligned.
From temperature monitoring technology to inventory management, specialized packaging to on-time delivery, the goal in food and beverage logistics is to store and move goods to maintain product integrity and prevent unwanted microbial growth. Real-time inventory visibility can provide actionable insights and enable early intervention, if needed, to drive efficiency in your cold chain monitoring.
Access to integrated solutions and premium technology also streamlines the order fulfillment process – promoting stability between supply and demand. This is vital for accelerating production, decreasing expenditure, maintaining strong inventory management, and protecting perishables in food and beverage logistics as they move through various phases of your cold chain. Further, it supports lot control and traceability to manage inventory flow, ensuring products don't simply sit and expire within a warehouse.
Beneath this framework lies everything from IoT sensors to radio frequency identification (RFID) and automation solutions – all tools that can help businesses achieve a more sustainable, efficient, and cost-effective supply chain.
Prevent Spoilage. Bolster Visibility. Strengthen Customer Satisfaction.
The cold chain is the least forgiving of all the various components of food and beverage logistics. Handling temperature-sensitive goods is a delicate, intricate endeavor that requires the right fulfillment partner to prevent unwanted financial losses.
At Smart Warehousing, we have the tools, technology, and expertise needed to manage your perishable foods and scale your business. From order fulfillment and inventory management to packaging and shipping, we have experience storing and handling frozen products, pharmaceuticals, meats, dairy, produce, and other bulk food items. In addition to our 38 warehouses across the U.S., we also have a 1 million square foot facility in Kansas City with temperature-controlled omnichannel fulfillment capabilities.
Moreover, our warehouses are audited annually by the American Institute of Baking to ensure we meet and exceed food and beverage industry standards. Everything we do in food and beverage logistics, from packaging to loading at our temperature-controlled fulfillment centers, is handled and overseen by our own people.
If you're looking for a 3PL provider that can oversee your cold chain from start to finish, and serve as a brand and back-of-house partner, contact the Smart Warehousing team today!