A hot topic in the fulfillment world: last-mile logistics. The catalyst? The e-commerce boom.
E-commerce sales produced a whopping $870 billion in the U.S. last year, representing a 14.2% increase from 2020 and a 50.5% increase from 2019. As consumers lean on e-commerce to satisfy their shopping needs, businesses face an increasing demand for speedy fulfillment. Quick and accurate shipping is no longer considered a bonus: it's an expectation of every online shopping experience.
As a response, businesses are seeking technology and supply chain solutions designed to expedite deliveries, increase parcel volume, and enhance the customer experience — all while reducing overhead. Companies that fail to adapt to demand and satisfy the growing needs of the modern consumer will simply fizzle out of existence.
From a logistics perspective, some of the biggest challenges businesses face are in last-mile delivery. In North America, the last-mile delivery market is forecasted to grow by $74.36 billion at a CAGR of over 16.48% by 2026. And from order tracking to customer communication and delivery time, expectations are only getting higher.
Of customers, a stunning 91% expect order tracking visibility, actively following packages through transit until their arrival, according to new research from Verte. As technology progresses and consumer demand heightens, the last leg of delivery will become an integral piece of your supply chain management strategy.
So, what exactly is last-mile delivery? And how does a strong relationship between 3PLs and last-mile carriers drive fulfillment success? Here's everything you need to know.
What Is Last-Mile Delivery?
Last-mile delivery refers to the transportation of goods from a fulfillment center to their final destination. A last-mile carrier aims to ensure packages arrive at a customer's doorstep quickly and cost-effectively. Some examples of last-mile carriers include popular household names, like UPS, FedEx, and Amazon — all of which control their own fleet of vehicles and are responsible for ensuring safe, timely shipment delivery.
Why Is Last-Mile Delivery Crucial for Success?
To build a thriving business in today's competitive landscape, companies must prioritize the customer experience. An economical and efficient last-mile delivery strategy ensures customer satisfaction and drives repeat business.
Think about it: What if you're waiting on a meal delivery kit to prepare dinner for your family? Or, worse, an anniversary gift shows up on your porch a few days late? Telling your significant other that the package hasn't arrived yet will sound suspiciously similar to the "the dog ate my homework" excuse.
In all seriousness, customers expect to receive their products quickly and on time. Otherwise, they'll pivot next time to purchase from a competitor that offers better delivery options. Amazon's market dominance has triggered the "Amazon Effect" for two-day delivery expectations across all supply chains and freight types – from LTL to truckload and single delivery items. As a result, quick shipping has become the norm, and many businesses are even leveraging two-day shipping language in their marketing language to increase customer interest.
Creating a Positive Last-Mile Delivery Experience
Companies must consider multiple pieces of the supply chain equation to secure favorable delivery outcomes, from order fulfillment to tracking and shipping costs. After all, you're competing with large retailers and marketplaces like Amazon. That means you need the proper infrastructure, technology, and expertise for quick order fulfillment and delivery while managing logistics costs.
Partnering with a third-party logistics company (3PL) is an effective way to improve fulfillment and delivery experiences, ensuring they don't negatively impact gross profit margins. And the reality is: last-mile delivery costs aren't cheap. Not only does last-mile logistics account for up to 28% of transportation costs, but companies can potentially face an estimated 26% profit loss over a three-year period if they fail to optimize their last-mile delivery strategy.
With the average order costing businesses approximately $10 on last-mile delivery alone, many brands are partnering with a 3PL to help maximize efficiency and decrease expenses. Here's the great news: It's still possible to offer attractive shipping options (think: fast, free, or even both!) that don't completely eat away at profit margins! By tapping into a reputable 3PL's technology and infrastructure, your business can effectively reduce costs and optimize the last-mile delivery process.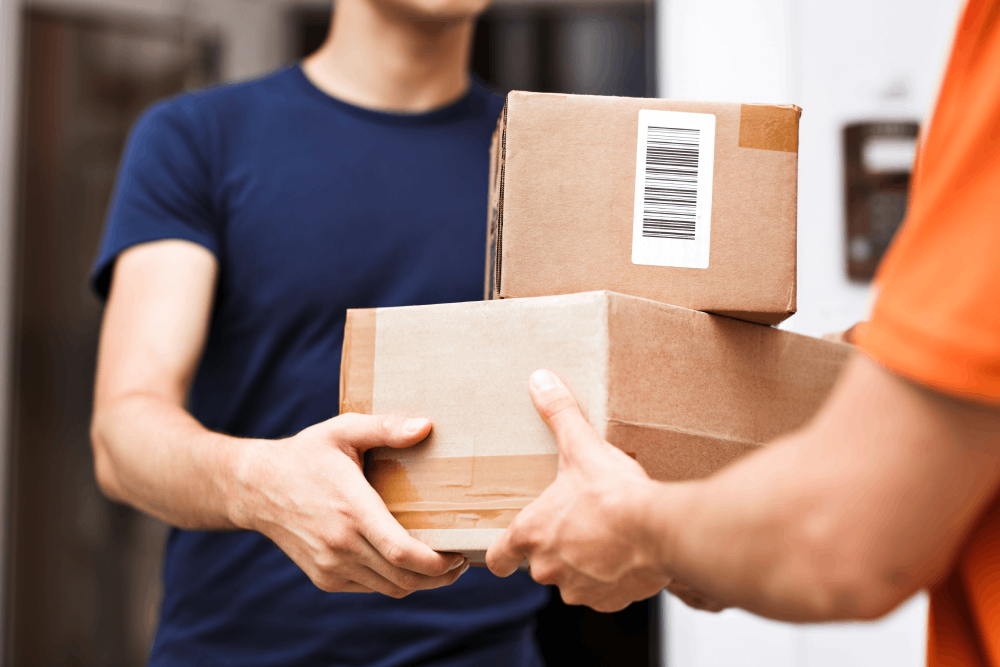 Partnering With a 3PL Offers Significant Benefits
The rise of e-commerce has propelled the growth of last-mile delivery — making it a high priority for carriers and fulfillment companies alike. So, how exactly can a 3PL company bolster your last-mile delivery efforts? From forecasting demand with predictive analytics to optimizing routes, the right 3PL provider has the tools and resources to ensure delivery is quick and affordable.
Distributed Inventory
Let's say your company is located on the East Coast, but most of your customers are peppered along the West Coast. The ensuing shipping costs would cut heavily into your revenue stream. The right 3PL, however, will have warehouses located in key markets across the country to reach customers more efficiently. This ability to house inventory in diverse regions will reduce travel mileage, time, and costs associated with last-mile shipping.
Reduced Overhead
A sudden fluctuation in sales volume due to the holidays, seasonality, or a PR boost can be highly disruptive to operations without the right systems in place. With the staffing, facilities, and technology needed to scale up, a 3PL can help you effortlessly maneuver increased demand without sacrificing quality. Want to launch a new product? Offer a "bundle-and-save" sale? As your business grows, your 3PL partner will be able to accommodate your evolving needs to ensure the customer experience is a seamless one.
Shipping Options
Outsourcing order fulfillment and shipping to a 3PL enables your business to leverage value-add solutions that aren't necessarily accessible in-house. For instance, increased visibility, multiple shipping options, and innovative technology can improve accuracy. A 3PL can help companies meet the demand for two-day shipping while keeping costs low and driving revenue growth.
Reverse Logistics
It's no secret that playing in the e-commerce space means handling product returns, which can be time and labor-intensive. Your third-party logistics partner will serve as an extension of your team, ensuring the reverse logistics process is cost-effective and pain-free. Moreover, you can lean on their technology to capture valuable product feedback and customer insights to drive future business improvements.
Customer Satisfaction
Making your customers happy is non-negotiable. Customers have the power to make or break your business. Everything from product packaging to quick deliveries can significantly impact customer satisfaction levels. 3PLs have the expertise needed to create a smooth, positive customer experience from the moment an order is placed through its arrival to increase satisfaction.
Transform Your Last-Mile Delivery
With 38 warehouses stationed in diverse regions across the U.S., Smart Warehousing can put your inventory closer to your customers. That means you can satisfy consumer demand for faster shipping without eating away at your profit margins. We work closely with a variety of last-mile carriers, including regional suppliers, to provide our clients with the best value and service to fit their needs.
By leaning on our last-mile carrier relationships, you'll reap a whirlwind of benefits, like higher shipping discounts and more cost-effective DIM factors. It's a win from a financial perspective, a win for your customers, and a win for building customer loyalty. To learn more about how our solutions can help improve your logistics efforts, contact the Smart Warehousing team today.