The race for logistics innovation and quick delivery continues. Automobiles revolutionized transportation in the first half of the 20th century, their influence reverberating throughout the global economy. In the same spirit, drones are on the cusp of doing the same a century later. And we're not talking about the drone varieties you'll find in the toy aisles — we're talking about delivery drones.
The future of logistics and last-mile delivery, in particular, will be many things: quick, sustainable, flexible, and automated. But perhaps the most crucial piece of the puzzle is that it will also be airborne.
Drones are slated to transform the supply chain, providing an eco-friendly and cost-effective alternative to ground-based delivery. Also known as unmanned aerial vehicles (UAVs), drones are driving industry leaders to reimagine how goods are transported, especially in the last leg of the delivery process.
While progress still needs to be made, new technology, public policy changes, and safety protocols are helping to lift cloud-powered delivery drones from concept to reality. Drones are already being utilized across the globe, from the transportation of medical supplies in Utah and mall-to-home shipments in Australia to food deliveries in China.
Drone Delivery Is About To Take Off
Everything from worsening climate patterns to the unexpected COVID-19 outbreak has significantly strained supply chains. Shortages have challenged resiliency, contact-free protocols have changed the delivery process, and rising costs have forced companies to seek innovative solutions for strengthening efficiency. And it's no secret that supply chains are buckling under the weight of increased demand.
As consumer expectation for on-demand, quick delivery deepens, our existing logistics networks are becoming increasingly unsustainable and will need to evolve to accommodate growing needs. Investing in new forms of infrastructure to support alternate modes of transportation, like drones and autonomous trucking, is crucial for sustainability efforts and will fuel the logistics sector's long-term success. Even today, we can begin exploring the utilization of drones for last-mile delivery – a feat that has massive potential to decrease carbon emissions and requires no physical road usage.
And to be clear, the environmental benefits aren't merely hypothetical: logistics companies are already transporting goods via drones across the globe. They're providing on-demand access to goods and meeting consumer expectations while significantly reducing their carbon footprint.
The growing appetite for contactless deliveries also drives the argument for drone usage. Here's a pretty mind-blowing fact: Today, more than 20,000 drones successfully fulfill retail deliveries. What's more, there are more than 500,000 drones registered with the Federal Aviation Administration (FAA) for commercial use, many of which are employed to assist with different phases of the fulfillment and logistics process. A recent report from MarketsAndMarkets projected the drone package delivery market to grow to $39 billion by 2030, up from $528 million in 2020, at a CAGR of 53.8%.
It's impossible to ignore a forecast like that. And from a business perspective, drones will have the most significant impact in the last-mile delivery phase. In addition to making the delivery process more energy efficient, Pedro Pacheco, Gartner's Vice President of Research in Automotive & Smart Mobility, shares, "Autonomous drones offer lower cost per mile and higher speed than vans in last-mile deliveries. When they deliver parcels, their operational costs are at least 70% lower than a van delivery service."
Drone delivery services show so much potential that major tech giants like Amazon and Alphabet (the parent company of Google) are actively investing in the technology, hailing it as the future of e-commerce fulfillment.
Looking ahead, companies will need to redefine their business and operational models to incorporate drones into their supply chains. It'll require implementing the right technologies, such as machine learning and artificial intelligence, adding them to the roadmap, determining labor needs, and establishing the proper budgets.
As the landscape evolves to fully leverage air mobility, drone delivery services and systems will help businesses maintain a competitive presence and resolve many of the challenges surrounding last-mile deliveries.
The Most Expensive Mile Is the Last One
While satisfying consumer demand is a strong justification for considering drones, there's also a pressing need for last-mile solutions, which comprise an estimated 53% of total shipping costs for retailers.
Further, last-mile delivery is one component of the logistics picture that has endured a lot of change and volatility. The catalyst? Consumer desire for immediacy and soaring e-commerce sales. That's why drone usage is such an exciting prospect.
So, why exactly are last-mile costs so high? There are several factors, including:
Driver demand: Drivers are in high demand, prompting a steep rise in labor costs.

Low MPG: Delivery areas typically consist of local, high-traffic roadways, meaning fewer miles per gallon.

Returns and refunds: Consumer returns and refunds drive up costs. Last year, the average rate of return for online purchases was a whopping 20.8%.

Delivery failures: Address inaccuracies, no one present to receive the package(s), cause delivery failures that inevitably need to be rerouted or re-attempted.
The last mile has a long-standing reputation of being one of the more uncontrollable aspects of the supply chain. A myriad of elements – from traffic to inclement weather – can negatively impact the efficacy and efficiency of the last mile phase.
While drone delivery is still in its infancy, with most stateside test sites located in more rural areas, they are proving to help bolster predictability and decrease expenses in the last mile. And, of course, the full scope of its utility is still being explored, including considerations around product sizes and types.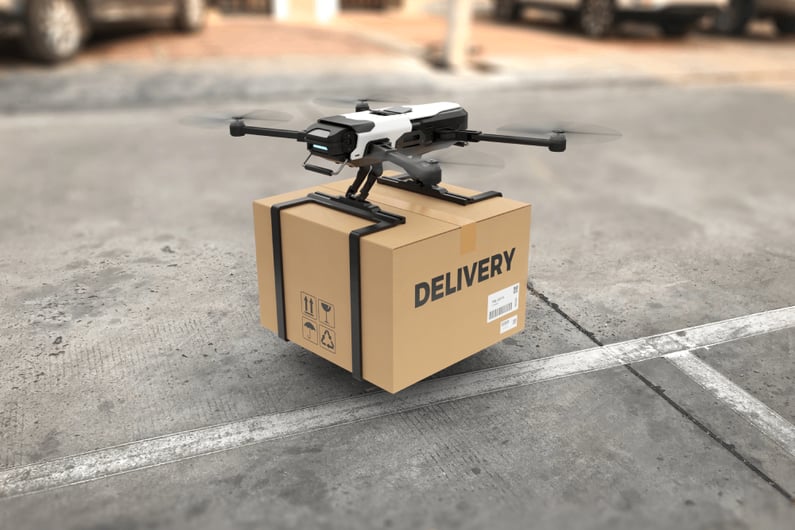 How Drones Fit Into Last-Mile Delivery
Drones don't need to operate in a vacuum regarding last-mile delivery. Engaging a new mode of transport like UAVs may require a collaborative approach, where other delivery modes complement its use.
Location will undoubtedly play a role in its viability, as well as the type of product being transported – i.e., is it small and lightweight? Is it a temperature-controlled item? Downstream impacts need to be considered, tech and logistics companies will need to work with regulatory bodies, and a new ecosystem will need to be built to accommodate the changing landscape.
One drone provider, DroneUp, is already demonstrating the benefits of air mobility for last-mile delivery. They've teamed up with Walmart in Arkansas to launch three drone delivery hubs to build a blueprint for repeatable, broader adoption of drones in last-mile delivery. They're currently operating twelve hours per day, seven days a week, helping to define safety standards and parameters for FAA regulations — two crucial factors in driving the scalability of drone delivery services.
Speaking with MarketScale, Tom Walker, CEO of DroneUp, shares: "What we're trying to do is not just go out and say, 'drone delivery solves everything,' but rather, how does drone delivery fit into the last mile ecosystem, how do we collaborate with middle mile autonomous vehicle solutions who can supplement and bring to those distribution hubs. As long as our industry looks at it as though we're not competing, but rather we're building an autonomous last-mile ecosystem . . . then we're going to be very successful."
And cooperation among various players in the space will help propel drone delivery to the mainstream. Because the right technology, infrastructure, and safety standards must be present to ensure last-mile drone delivery doesn't just take off, but soars.
Flying High: The Future of Logistics
If implemented correctly, drone delivery will revolutionize the customer experience. Further, it'll provide a whirlwind of business benefits – from cost savings and decreased environmental impact to speedy and efficient delivery. And while no one will argue with the appeal of having wings and a beer flown to your doorstep, the real value will be in the technology's ability to reimagine the future of last-mile delivery.
Exploring new transportation solutions? Contact our team today to learn more about how Smart Warehousing is helping companies satisfy consumer demand for 1-2 day shipping.