Drum roll, please! Smart Warehousing is expanding our nationwide network of warehouses to South Carolina. We are excited to announce that our 39th warehouse will be opening May 1st of 2023 in Gaston, South Carolina.
The 497,952 square-foot facility will serve Smart Warehousing customers in the South East with access to 24-million people within a 4-hour trucking time.
"In order to best serve our customers, we always look for their feedback," said Carl Wasinger, Smart Warehousing CEO. "In this case, South Carolina was a recurring wish list item for our customers."
Let's explore the top four advantages of Smart Warehousing's newest warehouse.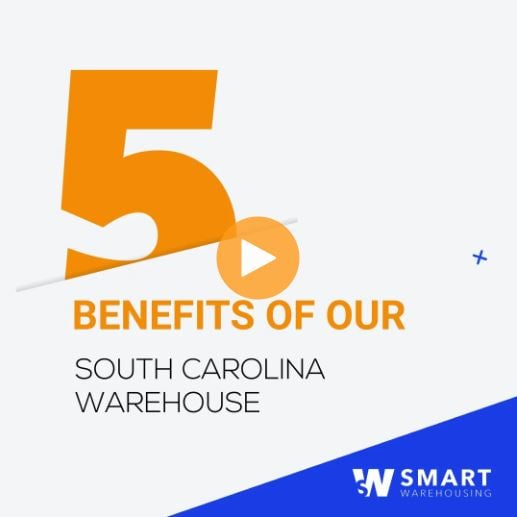 Benefit 1: Central location
When choosing a 3PL provider, it's all about location, location, location. The ideal warehouse location is close to major transit systems and your customers to lower your logistics and transportation cost and minimize time in transit.
Our South Carolina warehouse is conveniently located halfway between New York City and Miami to deliver products anywhere East of the Mississippi River within one day.
South Carolina's transit system features five primary airports and 2,300 miles of rail lines with daily service. With five interstates and 41,000 miles of state highways, South Carolina boasts more highway miles per capita than any other state. The I-85, I-26, I-77, I-95, and I-20 interstate highways cross across the state and offer easy highway access in any direction. Half of the United State's population, about 130 million people, live within a one-days drive from South Carolina.
The South Carolina warehouse is two hours away from 4 major ports, making it easy to transport goods inbound. The Port of Charleston, just 100 minutes away, is one of the busiest ports in America as it handles approximately 60% of all U.S. imports and exports and is ranked as one of the top 20 US ports by cargo volume.
Benefit 2: Network of 38 warehouses
Our newest warehouse joins our network of 38 warehouses strategically placed in 12 different markets across the United States. With supply chain setbacks and transportation costs continuing to rise, it's more important than ever to place your product as close as possible to your customers.
Smart Warehousing customers have access to all of our warehouses so you can strategically place inventory where your customers are located. If you need your products located in California, Kansas, and South Carolina, we can do it.
Smart Warehousing's Smart Replenishment program ensures your inventory is in the right place, at the right time. With customers all across the country, having your inventory concentrated in one or just a few markets can make it harder and more expensive to get your products to your customers on time.
Smart Replenishment makes sure you meet your customer's demands by letting us manage your inventory. We ensure you're stocked in the locations closest to your customer. Our proprietary technology ensures an optimized network to meet your customer's expectations. On average, our Smart Replenishment customers save over 20%.
Benefit 3: 1-2 day shipping
With the rise of Amazon, consumers are demanding faster shipping times. Transportation is vital to ensure you are delivering products to all of your customers on time, no matter where they are. Smart Warehousing offers nationwide coverage with 1-2 day shipping to 99% of the country, transportation discounts, and relationships with nationwide carriers. Our strategic partnerships with carriers, such as UPS, FedEx, DHL, and USPS, allow our clients to take advantage of larger discounts.
Benefit 4: Full Control Over Processes
When using a 3PL you don't have the visibility into supply chain operations to prevent mistakes. You need to be able to trust and rely on your provider to execute correctly. So what happens when your 3PL outsources their processes, systems, and warehouses to another third-party?
Smart Warehousing prides itself with full control over the processes, systems, and warehouses. All of our warehouses are exclusively Smart Warehousing run which enable us control over who is handling your product. We can accurately manage SLAs and inventory to ensure your customer satisfaction.
Fulfill Smarter
At Smart Warehousing, we don't want to be your average 3PL provider - we want to be your brand partner and powerful back-of-house solution. With B2B, retail, and e-commerce fulfillment services, we leverage our technology, workforce, and expertise to help you exceed your customer's expectations.
Interested in learning more about Smart Warehousing's fulfillment services and our newest South Carolina location? Contact us today!