Let's be honest: outsourcing your logistics needs can be intimidating. When you opt to partner with a 3PL third-party logistics provider, there are many things that you may want to consider. Not every 3PL is suitable for every business — and finding a good match can take some time.
WHAT TO LOOK FOR IN A THIRD-PARTY LOGISTICS COMPANY
As you begin your search for a 3PL third-party logistics provider, it is pivotal to have a firm understanding of what you need from a potential partner to drive optimal outcomes. A 3PL with a robust suite of solutions to adequately address your business challenges and objectives is imperative for long-term success.
So, what are the primary factors you should look for in a 3PL third-party logistics company?
7 ELEMENTS TO CONSIDER WHEN SEEKING A 3PL PARTNER
1. A Professional Reputation
To create a positive customer experience and gain a competitive edge in your market, it's crucial to partner with a 3PL third-party logistics company that can propel your business forward. A pivotal factor in that equation? A professional reputation.
Identifying a 3PL third-party logistics partner that has an unparalleled reputation will allow you to tap into their expertise and devise a winning strategy. Think about it: a 3PL that has left a slew of unsatisfied customers in its wake will not drive positive outcomes for your business. Do some digging and look for a 3PL that can provide references from customers as well as vendors, carriers, and employees. (Bonus points if they have strong case studies to illustrate their impact!)
Providers with a good reputation will be well-respected within the industry and have a valuable network of industry connections that can be highly advantageous for your business. Don't forget to assess their experience level. How long have they been in the industry? Do they have a history of working with companies similar to yours? If growth is in your future and you're chasing big goals, does the 3PL third-party logistics partner have expertise serving businesses a few years ahead of where you are now? Experience can play a vital factor in forming a successful partnership with a 3PL third-party logistics provider.
2. Comprehensive Technological Capabilities
The right 3PL third-party logistics provider will utilize technology that helps simplify complex logistics processes. Aligning with a company that can easily integrate with processes and technologies you have already implemented is essential for avoiding a massive overhaul of your supply chain.
The type of technology a 3PL third-party logistics company offers should also help streamline processes. From their inventory management system to the real-time data they can supply, look for a 3PL that actively invests in cutting-edge technology to ensure you're providing customers with the best service and experience out there.
But regardless of where the potential provider is today, it's also essential to ask: Where are they headed? Do they approach technology with an eye for innovation? What is their approach to strengthening their cloud technology? You want a 3PL third-party logistics partner that's committed to developing new solutions to serve you going forward.
3. First-Class Customer Service
While a 3PL provider works with a wide spectrum of companies just like yours, you should still expect to receive the utmost care and attention. The right 3PL third-party logistics company will work diligently to establish a strong relationship with your business, providing the focus and expertise your business — and your customers — deserve.
High-quality customer service should always be top of mind, as the right 3PL third-party logistics provider can provide invaluable insight when unanticipated hurdles, like supply chain disruptions, crop up. With the ever-evolving market, finding a partner that stays on top of important logistics trends and can navigate uncertainty to ensure you provide an uninterrupted and positive customer experience is crucial.
It's no secret that a customer-focused 3PL can help you decrease costs and drive customer loyalty: two factors pivotal to the long-term success of your business.
4. Ability to Scale
From expanding into new markets to growing your customer base, your organization must work with a 3PL third-party logistics provider that can effectively scale as you scale. An optimal 3PL partner will have the tools and automation technology needed to accommodate increases in inventory and eliminate growing pains. After all, you can't expect to drive profitability without a 3PL that can manage increased product flow during the warehousing and fulfillment stages.

5. Enhanced Security
Data protection in logistics is integral in safeguarding your business from outside threats. Your 3PL third-party logistics provider should be equipped with technology and systems designed to protect important data and financial information. For the sake of your business and your peace of mind, find a 3PL that has data security certifications.
6. They Champion Accuracy
Accuracy is key in logistics. Delayed shipments or incorrect orders can negatively impact the customer experience and retention numbers. When searching for a 3PL third-party logistics partner, it is important to align with a provider with a strong affinity for accuracy in all facets of the supply chain. When speaking to references, ask about inventory, shipping, and order accuracy, as well as what the 3PL does to make things right when errors do occur. For instance, Smart Warehousing's inventory and order accuracy is 99%.
7. Customized Solutions
Logistics is not a one-size-fits-all solution. Every business has its own unique set of goals and challenges, and your 3PL provider should be able to accommodate your needs via customized services.
The right 3PL third-party logistics provider should have extensive experience with B2B, B2C, and e-commerce companies, offering solutions that are custom-tailored to each. Many companies also have custom packaging and shipping needs, which a 3PL must meet. When you find the right 3PL, your customers will never know that you aren't doing everything yourself, because your partner will provide your shipments with the same attention to detail and level of service.
FULFILLMENT LOGISTIC MISTAKES TO AVOID DURING PEAK SEASON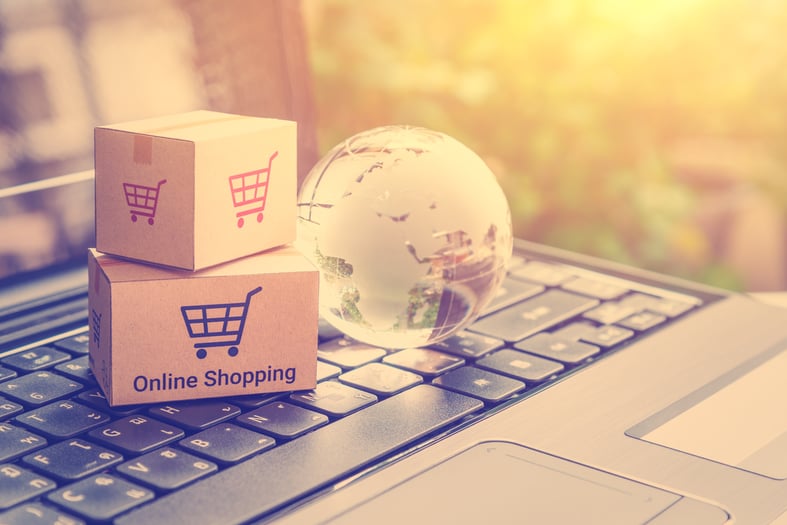 Peak season becomes more demanding and harder to navigate with each passing year. With everything from labor shortages to supply chain disruptions, it's imperative for companies to have a solid strategy in place to successfully handle increased seasonal needs.
For the majority of businesses, the holiday season represents a time of increased sales volume and profitability. To account for imminent order fluctuations, your company needs to be prepared to meet consumer demand by maintaining accurate stock levels, satisfying customer shipping expectations, and utilizing warehouse management technology.
The holidays can open up a whirlwind of opportunities for businesses, especially regarding acquiring and retaining customers. By taking the appropriate steps in advance, planning ahead, and leveraging the right warehouse management technology, you can avoid critical errors and ensure a seamless experience for your customers. With so many factors to consider during peak season, here are five fulfillment logistic mistakes you want to avoid.
1. Inventory Mismanagement
Some of the largest — and most problematic — issues you can run into in fulfillment logistics stem from inventory-related issues. Mismanaging inventory can translate into canceled customer orders and lost revenue due to inadequate stock levels.
Overstocking inventory can be detrimental to business, as you'll be responsible for storing and managing additional stock. And if you sell perishables, you can potentially forfeit dollars for spoiled or expired goods. Poor inventory management may also require you to sell overstocked merchandise at a discounted cost to help move products quicker, which can chip away at your bottom line even more.
With the right warehouse management technology in place, you can effectively forecast inventory needs, replenish stock as needed, and mitigate extra expenses tied to mismanaging inventory. As a business owner, it is integral to leverage data procured from your warehouse management technology to proactively plan for upcoming seasonal needs. Analytical data is truly invaluable because it can help predict how much inventory you'll need as well as which markets to house inventory in to keep it closer to the end customer.
2. Not Planning Ahead
With the holiday season comes impossible-to-avoid delays and shortages. In other words, proactively planning for seasonality is non-negotiable. And to be clear, this stems beyond inventory-related planning, encompassing everything from shipping and labor to your fulfillment process. Simply put, every season is a good season to plan ahead for your business's holiday season.
Without the right warehouse management technology to assist with planning, you could order inventory that you don't have storage space for. Or, you could have orders that need shipping but no carrier schedule in place. In other words, there's no solution for moving products out of the warehouse and onto customers' doorsteps. And that's a scenario that can negatively impact your brand's reputation.
Planning ahead also means looking at your entire fulfillment process and identifying where potential inefficiencies lie. Will you need incoming shipments to come to one part of your warehouse while outbound shipments stay in a separate location? Will you need custom inserts placed in packages to accommodate a seasonal promotion your offering? By leveraging a 3PL partner with cutting-edge warehouse management technology, you'll be able to devise a solid strategy to accommodate peak-season needs.

3. Slow Shipping
During the hectic holiday season, the last thing your business needs is shipping that moves at the speed of a sloth. How quickly you can get your product to the end customer is crucial for driving a positive customer experience and maintaining a competitive edge in the market.
In fact, cart abandonment due to slow shipping is widespread among digital shoppers. With shipping speed being such a critical factor, it should be a top priority for business owners. Shipping carriers are already bombarded with increased traffic during peak seasons and businesses should implement solutions that minimize delays and accommodate consumer demand for quick, 2-day shipping. In an Oracle survey, 80% of responders said they would stop buying from a brand after one to three delays or disruptions. The good news? You can lean on your 3PL third-party logistics partner's carrier network to ensure you deliver a strong customer experience.
4. Not Optimizing Your Network
One straightforward way to avoid issues during peak season is to ensure your supply chain is optimized and efficient. A large piece of this puzzle relies on acquiring warehouse management technology that can help you create a seamless fulfillment process.
Warehouse management technology is an effective resource for understanding how to optimize your fulfillment and warehousing needs. Taking a holistic look at business procedures and future needs will help you understand what processes need to be tweaked to avoid increased expenses and unwanted delays.
From order fulfillment to picking and packaging, the right warehouse management technology can provide valuable insights into inefficiencies and ways to maximize turnaround times. For instance, warehouse management technology is particularly beneficial in understanding how to disperse inventory across warehousing networks. Instead of housing products at a single location, you can store inventory closer to the end customer to decrease last-mile costs and improve shipping times. And when customers are satisfied, that drives greater customer loyalty, retention, and, ultimately, sales.
5. Outdated Technology
Warehouse management technology has come a long way in the last decade, allowing businesses to access inventory information in real-time from virtually any location. Failing to update your technology, or using slow, unreliable systems, can be damaging to your bottom line. Many aspects of fulfillment and logistics rely on technology, and not having the ability to integrate or share information can impede your ability to scale.
Outdated warehouse management technology can lead to several issues. For instance, if your system does not update your inventory levels in real-time, you may not know when stock is running low. If you receive an influx of customer orders and don't have the proper stock on hand, it can lead to delays, canceled orders, and irate customers. It may also tell your pickers an incorrect location for the product, so when they go to pick the ite/ljbm it is no longer there.
In a similar vein, if your warehouse management technology is outdated, it likely won't be compatible with the technology your vendors utilize, leading to potential issues with sharing and receiving information. Imagine all the challenges that can arise from having to share information manually! Or, worse, not being able to integrate tech with certain vendor platforms!
With all the challenges of navigating the peak season, finding the right 3PL third-party logistics partner can be vital to your success.
HOW

PREDICTIVE ANALYTICS

ARE TRANSFORMING LOGISTICS MANAGEMENT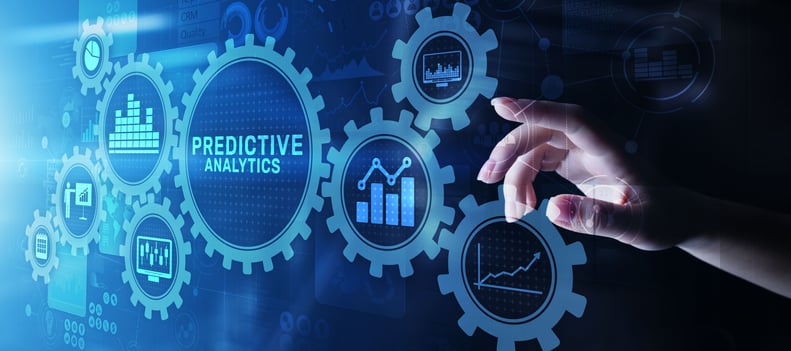 Time is money, as the saying goes. But when you consider it, time is even more valuable than money. And in no other industry is this more true than logistics. Whether your company sells meal kits, clothing, or electronics, how you allocate your time (and resources) has the power to make or break your bottom line.
Across the supply chain, businesses are grappling with heightened expectations, like minimizing inventory errors, predicting consumer buying behaviors, and providing quick and efficient delivery. The solution: Predictive analytics.
In the past, a predictive analytics strategy was once a nice-to-have game plan for forward-thinking businesses. But today, a predictive analytics strategy is a necessity. And as predictive analytics are introduced to logistics and supply chain management practices, companies are more strongly positioned to meet increasing demands.
Predictive analytics are driving forward momentum for businesses, helping mitigate costs, decrease risks, and satisfy growing consumer expectations. The innovative technology empowers supply chain professionals to optimize operations across the board, including warehousing, transportation, inventory management, predictive maintenance, demand forecasting, and more.
WHAT IS PREDICTIVE ANALYTICS?
Predictive analytics utilizes historical and transactional data, artificial intelligence, and machine learning to identify behavior patterns, trends, and habits. When this data is digested and analyzed, decision-makers are empowered to anticipate future risks and opportunities. These highly reliable predictive analytics deliver actionable, valuable insights across different facets of the supply chain.
Businesses can apply rules and conditions to generate specific scenarios or data sets. For instance, companies can preempt consumer demand utilizing controllable factors, like sales price, and external factors, such as weather effects and work calendars.
So, how exactly are predictive analytics reshaping logistics management? Let's delve into the transformative power of this technology.
OPTIMIZE KEY AREAS OF WAREHOUSE OPERATIONS
As predictive analytics gain considerable ground in supply chain management, they significantly impact the quality and performance of warehouse operations. Gone are the days when warehouses served a single purpose: physical storage. They have evolved into a multidimensional hub, uniting crucial aspects of the supply chain. And, with the right 3PL third-party logistics partner, your business can tap into a deluge of priceless data.
Using machine learning applications, predictive analytics can project future events or trends, gauge their impact, and evaluate if they open the doorway to new opportunities or pose potential risks.
Predictive analytics can help businesses implement agile and strategic initiatives to accommodate market fluctuations. Furthermore, with predictive analytics, data can be computed and rationalized to improve warehouse and fulfillment operations — optimizing inventory, improving customer service, predicting demand, and managing data.
To paint a better picture, let's look at the following scenario. A meat home delivery service experiences higher demand during months of the year when tailgating and backyard barbecues are in full swing. Proactively planning for these fluctuations using predictive analytics ensures the company maintains accurate inventory levels. Without this data, the business risks overstocking — think extra, unnecessary expenses and the stench of spoiled meat. Or, they risk understocking inventory, forfeiting revenue, and driving customers to their competitors.
The takeaway? Data provides leaders with critical insights to ensure their business runs as smoothly and efficiently as possible. Let's explore the essential areas of your warehouse operations that can be optimized with the help of predictive analytics.
1. Demand Forecasting
By combining real-time and historical data, predictive analytics can forecast future demand for your product based on consumer behavior patterns. Accurate forecasting is crucial for stock control and manufacturing surrounding holidays and seasonal demand. It also allows business leaders to prepare far in advance for sales peaks, decreasing stagnant inventory and ensuring more on-time deliveries.
Leveraging predictive analytics to create supply and demand forecasts allows companies to address needs proactively — rather than reactively — and make informed operational decisions. This approach also provides leaders with the flexibility to rebalance assets across their logistic network to increase profit margins.
2. Inventory Management and Optimization
Keeping track of merchandise can be chaotic and disorganized without the proper systems. Predictive analytics enable companies to have a better grasp on customer buying patterns and maintain adequate inventory levels.
In our current climate — when economic uncertainty, impatient customers, and procurement fragility are creating challenges across supply chains — identifying an optimal balance between supply, demand, and capacity is integral to both your bottom line and reputation. Leveraging automation, AI, and predictive analytics to generate greater visibility across the supply chain can allow your business to stay nimble and adapt to market fluctuations.
Let's face it: stock-outs will disrupt the operational flow and aggravate customers. And in an era when customer loyalty, online reviews, and referrals can mean the difference between success and failure, businesses can no longer risk taking a gamble on inventory management.
Beyond bridging gaps and fortifying your inventory management strategy, predictive analytics can also help develop future initiatives. For instance, if you're launching a new product line or considering bundling products for an upcoming sale, having access to purchasing trends via predictive analytics can help your business cultivate an informed go-to-market strategy. That means less risk and more reward.
3. Process Automation
Repetitive tasks, manual data processing, and similar labor-intensive activities can be minimized (and, in some cases, eliminated) with predictive analytics. By automating analytics functions, many processes can be streamlined and improved.
As a result, businesses can look forward to decreased operational costs, better resource and space utilization, reduced storage costs, increased efficiency and productivity, enhanced data accuracy, improved order fulfillment accuracy, greater inventory control — the list of benefits goes on and on.
4. Customization of Data
With predictive analytics, businesses can pull specific data sets based on their needs and correlate different groups of data across locations, departments, or functional teams. Inventory data and metrics can have a ripple effect across your organization, influencing decision-makers from marketing and sales through manufacturing and more. When leaders have the ability to access comprehensive insights, they're empowered to make holistic, informed decisions surrounding operations, finances, and inventories. Through this lens, businesses can look ahead and craft long-term strategies to fuel upward mobility.
5. Customer Satisfaction
We know what you're thinking: How can predictive analytics benefit customer service? By maximizing operational efficiency and keeping inventory stocked correctly, you can minimize delays and inaccuracies, delivering a better customer experience.
Furthermore, predictive analytics can help with workforce management in the customer service arena. Higher demand seasons call for more robust contact center staffing and vice versa. Predictive analytics help ensure your customer service operations are staffed appropriately, with the right crew in place at the right times. (Bonus: Real-time supply analytics empower your customer experience team to answer customers' "what's my package's ETA?" questions with accuracy!)
6. Last-Mile Delivery
Predictive analytics can significantly impact last-mile delivery. ​Transportation-related greenhouse gas (GHG) emissions, like carbon dioxide, are the largest contributor to all greenhouse gas emissions in the U.S. However, predictive analytics in route optimization, anticipatory shipping, and robotics can bolster sustainability efforts and produce tangible improvements, especially in last-mile delivery.


SCALING LOGISTICS OPERATIONS WITH

CLOUD COMPUTING

TECHNOLOGY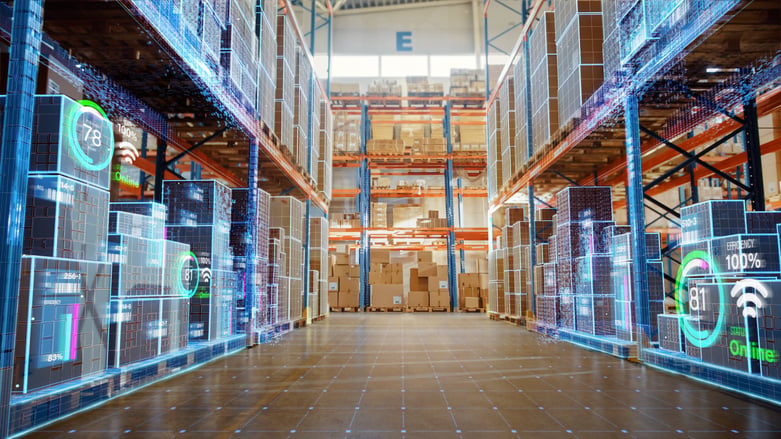 Cloud computing has been a staple for years — but for many organizations, the full benefit of cloud technology has yet to be seen within logistics operations. As businesses continue the search for strategies that will give them that edge over the competition, more are turning to cloud computing.
As the tide turns and many teams consider the value of cloud computing, joining the movement will be necessary. What is cloud computing within logistics, and why is it so important? Keep reading to discover why your competitors are using cloud technology today — and why it's something your company should consider for tomorrow.
WHAT DOES CLOUD COMPUTING DO FOR OPERATIONS?
At its core, cloud computing enables on-demand IT resources. Businesses no longer have to deal with massive, expensive physical servers. When a team needs more digital room for data or additional computing power for new tech needs, they can access it immediately from an online provider.
In the past, working with large amounts of data and storing it required a massive investment in systems and entire teams to operate those systems. Today, that can be outsourced — as a result, saving businesses millions while at the same time increasing their capabilities.
So what does cloud computing do for businesses? Take a look at these powerful components:
With access to various technical capabilities, teams can scale faster. Infrastructure resources enable businesses to utilize the storage, databases, analytics, and other tools they need to grow strategically.

Getting the right resources for a tech project is easier than ever. You no longer need to worry about providing for more or less than your needs, which means avoiding wasted expenses and last-minute problems. Additionally, if your needs change, you can increase or decrease

cloud computing

resources at the touch of a button.

Global distribution. Reaching a new geographic region is no longer a months-long endeavor. It can happen in mere minutes, even if your desired location is on the other side of the world. This can make a huge difference in reducing errors and improving your customer experience.




Cloud computing businesses have been around for more than two decades now. Since the onset, capabilities have improved, and prices have decreased. Utilizing cloud computing for logistics operations will soon be critical for keeping up with competitors.
WHY USE CLOUD COMPUTING TECHNOLOGY FOR YOUR OPERATIONS?
1. Real-Time Results
By utilizing cloud computing capabilities, businesses can use real-time data on crucial logistics points to make real-time decisions. Problems ahead? Your cloud computing tech has already spotted the obstacle and routed the product to avoid it! (Sounds a little like magic, right?) From weather concerns to truck or transport shortages and more, cloud computing can make a difference. Just imagine how many standstills and order delays your business can prevent with that information!
Beyond this considerable impact, real-time information can also be shared between manufacturing companies and retailers. In mere moments, the entire supply chain is optimized and on the same page. And today's customers expect real-time updates, which cloud computing technology allows you to provide.
2. Reduced Tech Costs
Before the latest developments in the cloud, getting data on your shipments meant investing in infrastructure, hardware, tech personnel teams, and more. These costs ended up increasing the overhead of the entire logistics area. With cloud computing technology, everything's online, and all those insane overhead expenses disappear. Logistics operations big and small can take advantage of cloud computing technology without having to invest thousands in equipment and upkeep.
3. Remote Data Access
Knowing what's going on with inventory couldn't be more critical. With cloud computing, businesses and logistics partners can access this information anywhere. Want to check what's going on with your latest shipment on the way home from work? Or on the other side of the country? All the necessary details are at your fingertips thanks to cloud computing. Location-agnostic data is a game-changer for leaders of companies looking to scale.
Access to logistics information on the go means you can see availability fluctuations and make resulting pricing changes immediately. Company leaders can also get a real-time look into profit margins and other important data points to inform decisions, no matter where they are.
4. Improved Efficiency
Efficiency is everything when it comes to logistics. How quickly and smoothly products run through your operations can make a tremendous difference in customer satisfaction and, ultimately, your profit. What causes problems in your logistics process? Frequently, human error causes oversupply, undersupply, or missed deadlines.
Cloud computing is part of automating these operation processes to remove human error and add to your delivery speed. Want a reminder when inventory dips? Wish you had an early indicator that demand is going to skyrocket? That's where cloud computing technology and its capabilities can come into play.
Cloud computing allows businesses to work smarter, not harder, and accomplish more than ever. It enables logistics operations, manufacturers, and retailers to work together like never before. This technology, surprisingly enough, also reduces costs that filter down to the bottom line.
AUTONOMOUS TRUCKING BECOMES A TRUE POSSIBILITY IN THE NEAR FUTURE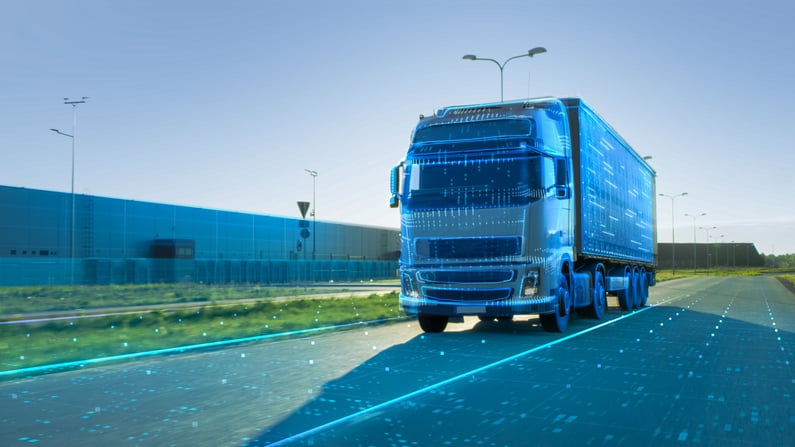 Digitization and tech-related advancements can help expose inefficiencies and strengthen the entire supply chain. For the logistics industry, autonomous vehicles are just one of the many factors shaping the future capabilities of the sector.
Autonomous vehicles can completely transform the cost structure and utilization of trucking and consumer goods, potentially saving the US for-hire trucking industry billions of dollars annually. These cost savings can be redistributed in many ways: lowering the cost of goods, investing in the workforce, exploring new markets or technology, and more. To further examine the impact of adopting autonomous vehicles, let's look at four ways the technology can affect the logistics sector.
1. Curb Transportation and Shipping Costs
The implementation of autonomous vehicles could significantly decrease reliance on human involvement. For instance, businesses could reduce the safety hazards and labor costs associated with long-distance and overnight road travel. Autonomous vehicles could potentially trim some overhead costs that stem from utilizing solely human drivers, like worker's compensation insurance.
A collaborative approach, which leverages both humans and autonomous vehicles, has the potential to reduce driving errors and on-the-road accidents. Additionally, autonomous trucking can curtail the inevitable disruption of halting operations while drivers rest and recharge. It's all about making the most of resources.
Companies can also anticipate seeing their fuel usage improve as well. Why? Because autonomous vehicles are equipped with smart technology to maintain ideal driving speeds and adjust routes to avoid traffic jams (read: costly delays). The ability to optimize routes will also lessen travel time and cut down on shipping costs.
As corporate responsibility expectations grow, businesses will need to adopt new policies and practices to bolster their sustainability efforts. Electric-based autonomous vehicles are one potential energy-efficient solution to minimize gas emissions. And let's face it: eco-friendly practices yield countless benefits — for the environment, society, employees, investors, consumers, brand reputation, and your organization's bottom line.
2. Resolve Driver Shortage Challenges
The U.S. has been grappling with a shortage of truck drivers for years. In the face of this shortage, there's a temptation to neglect safe driving practices for drivers or overload trucks to satisfy consumer demand. Neither option is sustainable. But autonomous vehicles offer a potential solution for alleviating the driver shortage. Paired with other autonomous technology, like drones, this can also provide a positive last-mile delivery experience for consumers.
The shift to autonomous vehicles would open up new job opportunities as well. Instead of getting behind the wheel, workers can control and supervise these modes of transportation remotely — providing new ways for drivers to help businesses move products. Handling a fleet of autonomous vehicles from an office (or an at-home, remote environment) can potentially attract more individuals to the logistics space and bridge these crucial labor gaps.
3. Automating the Supply Chain
Autonomous vehicles are just one way that leaders are looking to drive efficiency and improve the supply chain. As we move closer to autonomous trucking becoming a reality, congruent conversations are taking place around other automation technology, like machinery and logistics software, that can improve processes across the supply chain, including inventory management, order fulfillment, picking and packing, and so on.
For instance, autonomous mobile robots (AMRs) can be used to help load and unload shipments. And they aren't confined by human limitations. Working for 20+ hours without a break? No problem for a robot! Lifting heavy objects that expose workers to safety risks? Only an issue for humans. AMRs are one strategy to accelerate lead times and streamline otherwise labor-intensive tasks. And that empowers employees to focus their efforts on more high-level initiatives and goals.
Automated equipment could set in motion a truly 24/7 supply chain. Leaders will need to establish the ideal infrastructure and leverage the right technology to support this level of automation. Artificial intelligence, IoT devices, and cloud computing technology will all be instrumental in automating the supply chain. From maintaining continuity to capturing pivotal data, the right software — like warehouse management technology — will ensure workflow is optimized and provide greater visibility across processes.
As the demand for fast delivery continues to grow, autonomous vehicles can give businesses a way to get consumers their orders as quickly as possible. As a result, leaders must adopt the right framework and ensure their supply chain management strategy is evolving to support these new technologies.
4. Warehouse and Fulfillment Operations
Autonomous vehicles will be a game-changer for warehouse and fulfillment operations. For instance, picking and shipping can be performed through the night, during shifts that are virtually impossible to staff. This will help accelerate the fulfillment process and enhance the customer experience, which is imperative for a brand's reputation. The use of autonomous vehicles can also decrease per-unit costs, as they can turn inventory more quickly.
Some warehouses have already started to integrate automation into their infrastructure, providing businesses with the opportunity to drive their operations to new heights. When autonomous vehicles hit the road in the future, they'll also need to implement AT-compatible docks and entrances to ensure seamless connections. Everything from proximity to highways to the layout of the warehouse will need to be considered to ensure automation is streamlined at every level.


DRONE USAGE HAS THE POTENTIAL TO REVOLUTIONIZE LAST-MILE DELIVERY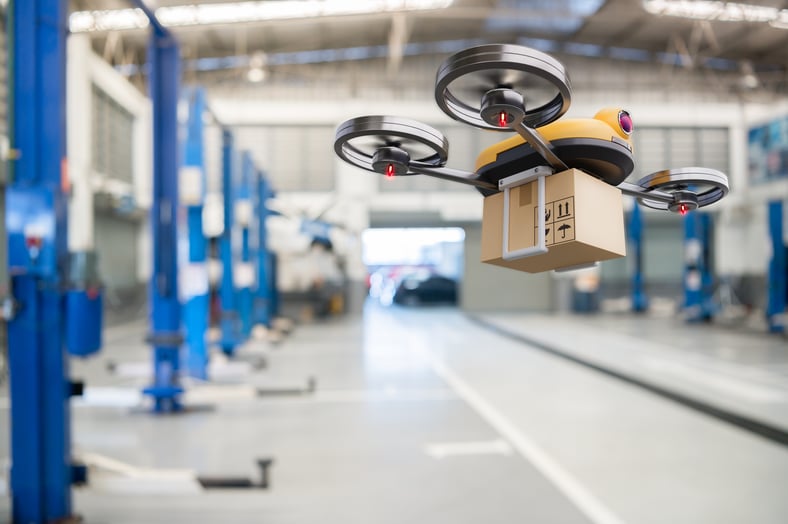 Drones are on the cusp of revolutionizing the transportation sector. And we're not talking about the drone varieties you'll find in the toy aisles — we're talking about delivery drones. The future of logistics and last-mile delivery, in particular, will be many things: quick, sustainable, flexible, and automated. But perhaps the most crucial piece of the puzzle is that it will also be airborne.
Drone delivery is slated to transform the supply chain, providing an eco-friendly and cost-effective alternative to ground-based delivery. Also known as unmanned aerial vehicles (UAVs), delivery drones are driving industry leaders to reimagine how goods are transported, especially in the last leg of the delivery process.
While progress still needs to be made, new technology, public policy changes, and safety protocols are helping to lift cloud-powered delivery drones from concept to reality. Drone delivery is already being utilized around the globe.
DRONE DELIVERY IS ABOUT TO TAKE OFF
As consumer expectation for on-demand, quick delivery deepens, our existing logistics networks are becoming increasingly unsustainable and will need to evolve to accommodate growing needs. Investing in new forms of infrastructure to support alternate modes of transportation, like drone delivery and autonomous vehicles, is crucial for sustainability efforts and will fuel the logistics sector's long-term success. Even today, we can begin exploring the utilization of delivery drones for last-mile delivery — a feat that has massive potential to decrease carbon emissions and requires no physical road usage.
And to be clear, the environmental benefits aren't merely hypothetical: logistics companies are already transporting goods via delivery drones across the globe. They're providing on-demand access to goods and meeting consumer expectations while significantly reducing their carbon footprint.
The growing appetite for contactless deliveries also drives the argument for drone delivery usage. Here's a pretty mind-blowing fact: Today, more than 20,000 delivery drones successfully fulfill retail deliveries. What's more, there are more than 500,000 drones registered with the Federal Aviation Administration (FAA) for commercial use, many of which are employed to assist with different phases of the fulfillment and logistics process. And by 2026, more than one million drones could be carrying out retail deliveries!
From a business perspective, delivery drones will have the most significant impact in the last-mile delivery phase. In addition to making the delivery process more energy efficient, delivery drones can operate at a higher speed and lower cost than trucks — especially in the last mile.
Looking ahead, companies will need to redefine their business and operational models to incorporate drone delivery into their supply chains. This will require implementing the right technologies, such as machine learning and artificial intelligence, adding them to the roadmap, determining labor needs, and establishing the proper budgets.
As the landscape evolves to fully leverage air mobility, drone delivery services and systems will help businesses maintain a competitive presence and resolve many of the challenges surrounding last-mile deliveries.
THE MOST EXPENSIVE MILE IS THE LAST ONE
While satisfying consumer demand is a strong justification for considering drone delivery, there's also a pressing need for last-mile solutions, which comprise a bulk of total shipping costs for retailers.
Further, last-mile delivery is one component of the logistics picture that has endured a lot of change and volatility. The catalyst? Consumer desire for immediacy and soaring e-commerce sales. For these reasons, drone delivery is such an exciting prospect.
While drone delivery is still in its infancy, with most stateside test sites located in more rural areas, they are proving to help bolster predictability and decrease expenses in the last mile. And, of course, the full scope of drone delivery is still being explored, including considerations around product sizes and types.
HOW DRONE DELIVERY FITS INTO LAST-MILE DELIVERY
Drone delivery doesn't need to operate in a vacuum regarding last-mile delivery. Engaging a new mode of transport like UAVs may require a collaborative approach, where other delivery modes complement its use.
Location will undoubtedly play a role in the viability of drone delivery, as well as the type of product being transported — i.e., is it small and lightweight? Is it a temperature-controlled item? Downstream impacts of drone delivery need to be considered, tech and logistics companies will need to work with regulatory bodies, and a new ecosystem will need to be built to accommodate the changing landscape.
Cooperation among various players in the supply chain space will help propel drone delivery to the mainstream. Because the right technology, infrastructure, and safety standards must be in place to ensure last-mile drone delivery will not just take off, but soar.
FLYING HIGH: THE FUTURE OF LOGISTICS
If implemented correctly, drone delivery will revolutionize the customer experience. Furthermore, this will provide a whirlwind of business benefits — from cost savings and decreased environmental impact to speedy and efficient delivery. And while no one will argue with the appeal of having wings and a beer flown to your doorstep, the real value will be in drone delivery's ability to reimagine the future of last-mile delivery.


AUTOMATION TECHNOLOGY

IN LOGISTICS: THE KEY TO SUPPLY CHAIN EFFICIENCY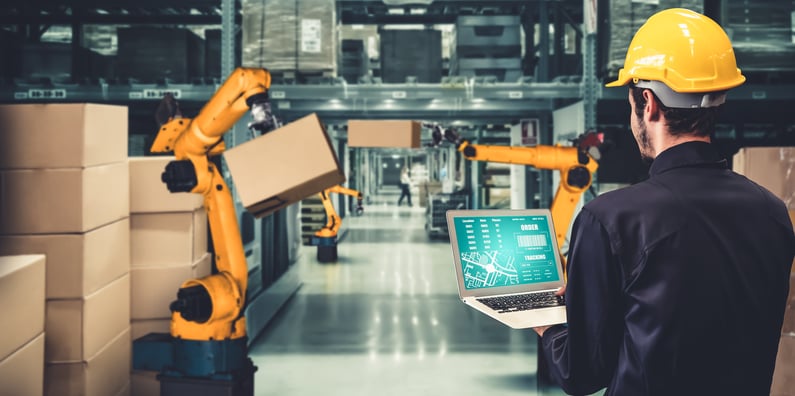 Businesses across sectors are constantly seeking new and innovative ways to overcome challenges and improve their margins. Enter: automation technology.
Emerging technologies, like machine learning and artificial intelligence (AI), can improve profitability, visibility, and stability across the supply chain. And to be clear, automation technology can encompass both software and machines.
Everything from automated storage and retrieval systems (AS/RS) to robotic arms and delivery drones is driving advancements in the industry. In addition, CRM solutions, eCommerce platforms, warehouse management technology, and other forms of software on the market can support your logistics operations.
Not only is automation technology disrupting the industry, but more and more companies are adopting these solutions as a way to foster upward mobility and maintain a competitive presence. With new technological advancements taking place each year, automation technology will play an increasingly integral role in solving critical challenges and improving supply chain operations across the board.
WHAT IS LOGISTICS AUTOMATION TECHNOLOGY?
Automation refers to the use of technology, such as logistics software and machinery, to improve efficiency across processes like order fulfillment, inventory management, picking and packing, shipping, and customer service. Automation technology solutions can completely transform warehouse and distribution-related operations, delivering improved outcomes that traditional methods simply cannot achieve.
Automation technology can lead to significant economies of scale — allowing businesses to reduce costs, increase revenue, and improve their price competitiveness. For instance, autonomous vehicles can be utilized to move items around the warehouse more quickly and efficiently.
Think about it: these robots aren't restricted by human limitations. They can endure repetitive tasks without breaks. They can lift heavy objects without being exposed to health or safety concerns. And by handling time and labor-intensive manual tasks, autonomous vehicles can optimize processes, accelerate turnaround times, and (most importantly!) allow employees to focus on more high-level activities.
Autonomous vehicles are just one of the many tools available to harness the power of automation technology. Another example of automation technology that can improve supply chain efficacy is a warehouse management system (WMS). The right warehouse management technology can capture and digest vital data across your entire fulfillment process — from the point of sale to outbound delivery. This level of visibility can be game-changing, providing the insights needed to streamline workflow, identify inefficiencies, and lower operating costs.
ADVANTAGES OF USING AUTOMATION TECHNOLOGY
Have you ever stopped for a moment to evaluate the cost of inefficiencies in your fulfillment and warehousing operations? In the beginning, that cost may be pennies. Long-term, however, those inefficiencies can really add up. From stock-outs to unhappy customers, a messy and disorganized supply chain could have fatal repercussions for your business.
Utilizing automation technology across critical areas of your business, like warehousing and logistics, can help streamline processes, strengthen your competitive advantage, and resolve a myriad of business-related challenges. Automation technology in the warehouse alone will completely transform your business: decreased operational expenses, optimized inventory, and improved customer satisfaction, just to name a few.
Here's a deeper look at three significant benefits your business can reap from automation technology.
1. Enhanced Inventory Management via AI and Digitization
A majority of companies face similar supply chain challenges — unpredictable markets, instability in the procurement chain, and impatient customers. Finding an adequate balance between demand, supply, and capacity has become so complex that handling it all manually can expose you to costly, unwanted mistakes.
Leveraging machine learning and AI, automation technology can compile crucial insights spanning real-time inventory levels, predictive analytics, stock replenishment, and customer demand. The result? An optimized inventory management system. And there are tons of benefits you can glean from it, from staying nimble and adapting to market fluctuations to preventing stock-outs and overstocking.
2. Decreased Operational Costs
Outsourcing your warehouse and fulfillment needs means identifying a forward-thinking 3PL third-party logistics partner that invests in — and stays abreast of — the latest automation technology. How they utilize automated solutions and robotics can put money back in your pocket.
For instance, warehouse management technology that involves goods-to-person (GTP) will lean on human-machine collaboration during the picking process to reduce error and drive greater throughput. Similarly, pick-to-light (PLT) systems can streamline order fulfillment by improving speed and accuracy when picking and packing goods.
Automation technology, like box selection algorithms, can also be employed to seamlessly match orders with the right package size, reducing dimensional weight and minimizing the risk of damage. And what does that translate into? More profits and more savings.
3. Using

Automation Technology

to Optimize Service
Living in the age of Amazon, consumer expectations are higher than ever before. From enjoying a headache-free buying experience to receiving packages quickly, businesses must have the processes and automation technology needed to satisfy consumer demand. That means having stock available and being able to ship items within a two-day time frame.
But the reality is that the buying experience can make or break your company's success. It can also be woven into your brand's value proposition and leveraged as a critical differentiator for a customer to purchase from you over a competitor. Following customers through the buying journey and ensuring their needs are met at every conversion point will strengthen brand equity, referrals, and repeat business.
With the right 3PL third-party logistics partner, you'll gain access to automation technology that ensures all points of sale are consolidated, and shipping times are accelerated to enhance customer satisfaction. Moreover, a 3PL third-party logistics company will have the tools to integrate with your current tech stack, so information is easily accessible in a single dashboard.
Automation technology can also be used during the return management process to ensure it's simple and pain-free. This is a crucial loyalty lever, as a good return experience can convert lost sales into loyal customers.
SMART WAREHOUSING: CUTTING-EDGE LOGISTICS TECHNOLOGY
To keep up with today's shifting market demands, you need an agile supply chain. But truly adopting that framework requires access to the right tools and technology.
From Inventory management to automation technology, the goal is to drive efficiency while creating enhanced visibility across your supply chain. From a customer's initial purchase through product delivery, logistics technology has the power to streamline fulfillment, optimize workflow, and provide real-time insights into inventory levels to satisfy demand and minimize extraneous costs. When processes are centralized, and those repetitive (or even unproductive) tasks are automated, your team is free to focus on big-picture initiatives, like sales and marketing.
At Smart Warehousing, we leverage innovation and technology to optimize the supply chain and ensure our clients can effectively scale their businesses. As a 3PL third-party logistics provider, we act as an extension of your team, helping you hit key business objectives through technology-driven order fulfillment, inventory management, logistics, and more.
And the best part? Our cloud-based Smart Warehousing Information Management System (SWIMS) will capture and digest valuable analytics that can be used to improve business processes and identify new revenue opportunities. This enhanced visibility into your supply chain allows you to make data-backed decisions that align with your goals, like gaining a competitive advantage, maintaining margins while decreasing costs, or expanding your product line. Connect with us today to experience how our innovations in logistics management can change the way your business operates.