Are you fed up with paying too much for transportation? Do you find yourself spending too much time on deliveries and not enough on growing your business? Has the stress of coordinating confusing shipping details put you over the edge?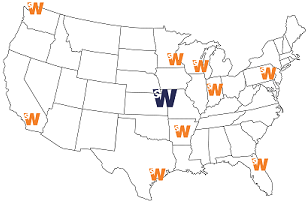 If your heart rate increases when simply reading these questions, it's time you did yourself a favor and partnered with Smart Warehousing's Transportation team.
Smart Warehousing is your "one-stop-shop" for all your transportation needs, including small parcel, LTL (Less Than Truckload), and Truckload. With the continued growth of eCommerce and online shopping, the need for cost efficient small parcel shipping is exploding. A small parcel shipment consists of a single package or multiple packages that typically ship direct to consumer. We ship through almost all service channels including Ground, as well as Air with only one to two-day delivery. Small Warehousing ships primarily through FedEx, UPS and USPS with daily scheduled pickups at each of our warehouses. Take advantage of our dedicated experts and avoid navigating this complex industry on your own.
In addition to gaining a reliable industry expert that rivals some of the best, Smart Warehousing offers deep discounts to our transportation customers. When you partner with Smart Warehousing, we guarantee our customers substantial savings off small parcel published shipping rates.
Tackle your company's transportation operations with confidence by choosing Smart. We make it easy by handling all of the details, including acquiring weights and dimensions of your shipments, quoting, booking, generating BOLs, and filing disputes or claims with carriers on your behalf. If an error occurs, we will file the claim and own the incident. Increased accountability and visibility give you what you need to make informed business decisions and drive future growth.
Each day, Smart Warehousing brings the supply chain to life by providing flexible transportation solutions tailored to your company's unique needs – all while saving you time and money. Reach out to our transportation team for a free quote today at (913) 888-3222 or info@smartwarehousing.com.