Logistics and fulfillment have become increasingly essential in a busy society that favors convenience and expediency above all else, but this has not belittled the significance of approaching this industry with thoughtfulness as to the greater impact on our planet. From the packaging to the fulfillment process, consumers value businesses that prioritize environmentally friendly shipping practices, incorporating green logistics into their supply chain.
What is "green logistics"?
"Green logistics" refers to any business practices in logistics and fulfillment that intentionally make processes more sustainable and environmentally friendly. What green logistics looks like can vary from business to business, whether it's a commitment to reducing carbon emissions or looking at ways to innovate and automate processes for better logistics efficiency and decreased waste.
Although care for the environment should be a top priority, the benefits of green logistics are also strategic in nature. With 91% of e-commerce customers wanting eco-friendly shipping options at checkout — including those who said they don't care as much about green practices in general — businesses are appealing to consumer interests by seeking eco-friendly solutions.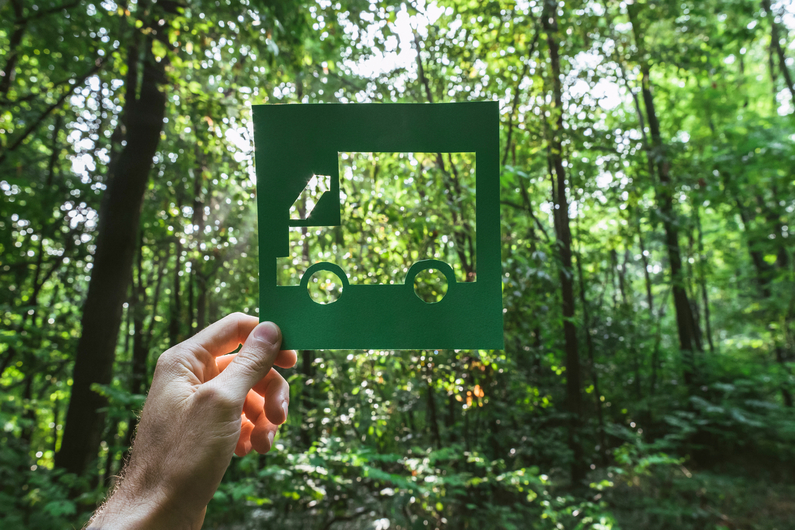 The Environmental Impact of Logistics and Shipping
When looking for ways to "go green," businesses should look first at their supply chain, which is responsible for more than 90% of their environmental impact. More than half of total global emissions come from eight major supply chains alone: food, construction, fashion, fast-moving consumer goods, professional services, and freight. Of this, 25% comes from food, likely due to the complexity of shipping perishable products and sustaining a cold chain.
Despite many consumers returning to in-person shopping following the pandemic, this will in no way reduce the environmental impact of the supply chain as retail e-commerce is expected to boom worldwide over the next few years, making sustainable omnichannel fulfillment essential for online businesses.
By turning eco-friendly efforts toward building a sustainable supply chain, companies can reduce their carbon footprint significantly and make a powerful, environmentally friendly impact on our environment.
And if the positive environmental impact isn't enough, environmentally friendly practices are also great PR. Frequent online shoppers are more likely to be eco-conscious, with 72% of shoppers who receive five or more packages per month saying eco-friendly practices are either "important" or "very important."
7 Tips for Eco-Friendly Shipping Practices
1. Use eco-friendly packaging
Sustainable packaging is one of the simplest and easiest changes you can implement to improve the sustainability of your supply chain. Eco-friendly packaging may vary depending on the product size and packaging needs, but the most eco-friendly packaging should check a few major boxes:
Made from recyclable and/or biodegradable materials

Uses renewable energy during the production process

Is safe for consumers and the environment
By sourcing packaging that follows these standards, businesses can rest assured that their packaging is eco-friendly throughout its life cycle, including once it leaves their possession on delivery to the consumer.
2. Emphasize ground-based shipping
Ground-based shipping may be a longer wait than expedited air shipping, but many consumers will still opt for it at checkout if it's affordable, recognizing the sustainability value. Ground-based shipping also doesn't have to result in slower shipping times if you're mindful of your fulfillment center locations or partner with a third-party logistics provider (3PL) that can create data-driven solutions to your shipping needs.
3. Look for ways to give back
Green initiatives can occur beyond the supply chain as well by looking for opportunities to offset inevitable emissions and waste. For example, Etsy has committed to offsetting 100% of carbon emissions from shipping and packaging on every single delivery and is aiming for net zero emissions by 2030. Other green initiatives could be donating to environmental causes or planting a tree for every order. Get your employees and customers involved by asking how they would like to see your brand make an environmentally friendly change in the world.
4. Embrace Automation
Efficiency equals sustainability when done correctly, and automation in logistics can go a long way in making processes more streamlined and eco-friendly throughout the supply chain. Automated processes make machines and software operate more efficiently, decreasing the energy needed to complete essential production operations. By improving visibility and stability across the supply chain through software and machinery, there is less margin for error and waste.
5. Leverage Data and Forecasting
Data should be at the heart of your supply chain operations, as it informs efficiency and can reveal areas of excess waste. This is where having a good inventory management system becomes invaluable for green logistics. Supply chain visibility makes it possible for you to demonstrate the tangible impact of your green logistics efforts to consumers, lending credibility to your claims of environmentally friendly practices.
Product visibility and transparent data can also improve forecasting and make it possible to replenish and stage products in warehouses proactively, staying on top of demand and having your products ready to ship from fulfillment centers within a reasonable distance from consumers.
6. Focus on the Last Mile
The last mile of delivery is what your customers see, making it effectively the face of your business. It is also where the greatest pain points occur in the shipping process from the consumer perspective. A lot of sustainability in the last mile starts with innovation in logistics.
7. Choose the Right 3PL Provider
To implement the majority of these eco-friendly shipping practices, partner with a conscious and innovative 3PL provider that is built to meet your needs through intentional green logistics practices. The right 3PL provider can provide powerful data insights and forecasting, leverage automation and effective warehouse management, and even provide eco-friendly packaging that represents your brand.
The Smart Difference
At Smart Warehousing, we take green logistics to the next level with a national network of fulfillment centers ready to serve your customers through innovative and sustainable solutions. When it comes to fulfillment and logistics, you need more than a 3PL to get your products from A to B. You need a team that serves as your brand and back-of-house partner, ensuring an experience that cares for your customers and the environment.
Our eco-friendly innovations even extend to our cold chain customers, who enjoy temperature-controlled omnichannel fulfillment that is made 60% more cost-effective by using underground caves to manage temperatures while conserving energy.
If you're looking for a 3PL provider that takes green logistics seriously and is ready to partner with you to bring more eco-friendliness to your brand, contact the Smart Warehousing team today.