Amazon is King in e-commerce, with millions of merchants successfully utilizing the platform to streamline their retail logistics. As an Amazon seller, you have two options for order fulfillment: Fulfillment by Amazon (FBA) and Fulfillment by Merchant (FBM). Before you're ready to start selling, you need to determine which option is right for your e-commerce business.
What is FBA?
For the most hands-off order fulfillment experience, third-party sellers can enroll in FBA to let Amazon do most of the heavy lifting. Sellers enrolled in this fulfillment option send their products to Amazon, and then Amazon warehouses the products, processes orders, and even handles all returns and refunds on your behalf. Keep Amazon stocked with your products, and they'll take it from there!
Although this sounds ideal on a surface level, the fees involved make this not an ideal option for every product or e-commerce brand. Amazon charges storage and fulfillment fees based on weight and size, not the value of the items. This means FBA may not be financially worthwhile for e-commerce brands selling large or heavy products of low value. If you're unsure whether FBA is right for you, use Amazon's FBA calculator to determine the profitability.
FBA also does not limit you exclusively to the Amazon platform. Through Amazon's Multi-Channel Fulfillment (MCF), you can sell your products on eBay, BigCommerce, and many other platforms while still having Amazon handle the fulfillment.
Benefits of FBA
24/7 Amazon customer service

All-inclusive fulfillment and shipping costs

Product warehousing

Transparent pricing and support for sellers

Return and refund management

Prime shipping times and costs for your customers
Drawbacks of FBA
Fees determined by the size and weight of products

Long-term storage fees for slow-moving inventory

Fees are deducted before any payout is made

Fees subject to change at any time

No inventory control after shipping to Amazon warehouse
What is FBM?
If you want to sell on Amazon but prefer handling order fulfillment yourself, you can opt for Amazon's Fulfillment by Merchant program. With FBM, you handle all the retail logistics, but with the Prime label and free shipping benefits that online shoppers prefer when browsing products on Amazon.
The main difference is that when you're an FBM seller, you are responsible for warehousing, packing, and shipping products as orders come in. This means more work on your end, but it may be more cost-effective if you have alternative fulfillment arrangements or sell a product that wouldn't be financially practical to sell through FBA.
Since you're paying for and managing fulfillment and storage separate from Amazon, the only fee you need to spend as an FBM seller is the referral fee, allowing you to list your products on Amazon's website.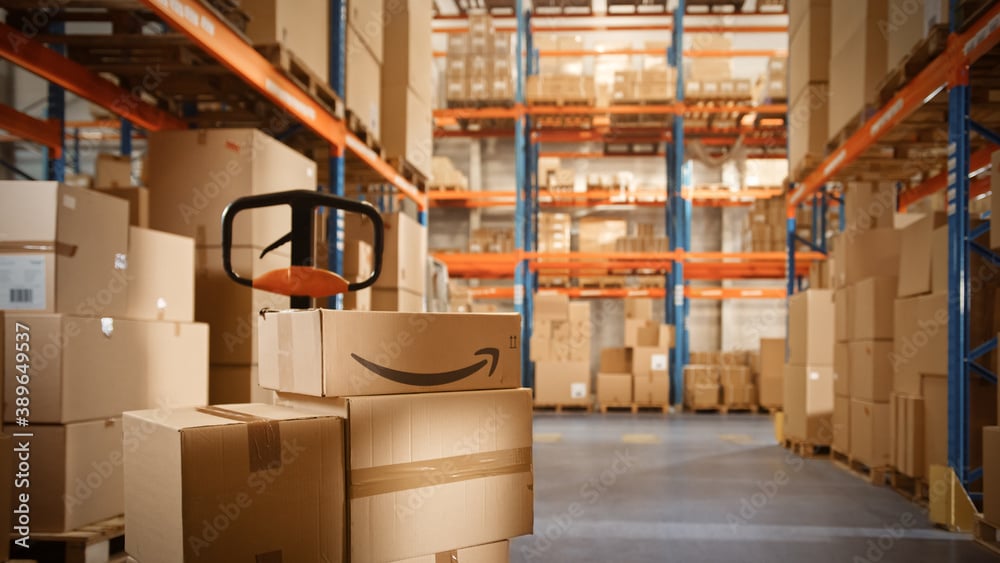 Which Order Fulfillment Option is Right for You?
As far as choosing a fulfillment method for selling on Amazon, it ultimately depends on what you're looking for in a retail logistics experience. For some small businesses, the all-inclusive FBA approach may be worthwhile, but not for everyone. FBM requires you to do a lot more of the heavy lifting while still complying with Amazon Prime shipping and return policies, but it can save you money if you're an established business with your own high-quality fulfillment process.
Handling your own fulfillment also gives you more autonomy over the customer experience. FBM sellers are responsible for their own customer service in addition to packing and shipping, making it easier to establish a clear brand than if you're operating under Amazon's fulfillment and customer service.
If you're comfortable with handling all of the retail logistics on your own and just prefer to select an order fulfillment option based on costs and profitability, you'll need to do a cost comparison to determine which route will work best for your business.
Example
Let's say your business sells coffee mugs via FBA that weigh less than 10 ounces, making them "small standard" products. Based on current rates and with no service add-ons (extra packaging or labels), your fulfillment costs will come out to $3.96 per unit.
You will also need to pay the monthly storage fees, which vary based on the time of year and are also subject to change. For storing products October-December, monthly storage will cost $0.09 per unit. Additionally, you must pay a $1.50 referral fee and a $0.99 fixed closing fee for listing your products on Amazon, totaling $2.49 in Amazon fees.
Assuming you sell your coffee mugs for $10 (and you are able to fully sell everything you store each month!), here is how much you stand to profit using FBA:
$10 - $3.96 - $0.09 - $2.49 = $3.46 Net Profit
Now let's take a look at the same scenario using FBM. You will still need to pay the $2.49 in Amazon fees, but your fulfillment and storage costs will depend on your own fulfillment and storage plan. Once you've done the research and prepared your own DIY retail logistics process, you may be able to cut these costs down to $3.00 per unit. If you don't opt into Seller-Fulfilled Prime (SFP) to offer free Prime shipping, you can charge the shipping costs to your customers. In this scenario, here is the cost and profit breakdown:
$10 - $3.00 - $2.49 = $4.51 Net Profit
Of course, this example is very bare bones, and every business has unique elements to consider. You will also need to factor in other costs, such as shipping your products in bulk to an Amazon warehouse for FBA or incorporating shipping for FBM. Your net profit will also vary significantly depending on what you are selling and what retail logistics options are even available to you. The sale of dangerous goods or those that require specialized storage will affect the expense, regardless of your order fulfillment plan.
The Importance of Product Visibility
Perhaps the greatest drawback of the FBA program is the lack of product visibility. Once your products have been shipped to an Amazon warehouse, you are virtually blind to their journey until a product has sold. Although Amazon does provide detailed insights on your seller console to help you make strategic decisions regarding pricing and inventory, you have limited control over inventory and fulfillment operations.
We personally prefer a more transparent approach to retail logistics, providing cloud-based inventory visibility and ordering systems to give our customers real-time insights on all of their SKUs. We also make it easy for e-commerce brands to sell through several channels, not just Amazon and their approved partners. We also give your brand greater visibility, allowing you to customize your packaging to build your brand's reputation.
If you're torn between FBA and FBM and just don't know which option is the most cost effective and worthwhile for your business, request a quote from us today and compare the results to Amazon's FBA estimates to see how rates compare!