You've likely heard the word "sustainability" thrown around business meetings and investor conference calls. The reason: corporate responsibility and sustainability goals have become an integral piece of driving today's businesses forward. This demand is emanating from multiple fronts – consumers, investors, employees, and even governing bodies.
Most e-commerce supply chains follow a similar formula regarding e-commerce logistics. They commence with sourcing raw materials, which are utilized to manufacture merchandise. Finished products are then distributed to warehousing fulfillment centers, where they're stored, picked, packed, and ultimately shipped to customers.
Forecasters project the global e-commerce growth rate to hit 9.7% in 2022, meaning e-commerce sales account for $5.7 trillion worldwide. Just picture the amount of inventory, packages, and resources needed to hit those numbers.
As e-commerce continues to experience explosive growth, adopting sustainability practices is no longer an added bonus – it's a must. Globally, 85% of consumers have shifted their buying behaviors, making "greener" purchases over the last five years. And in the United States, 42% of consumers are willing to pay more for sustainable products or services, according to the 2021 Global Sustainability Study conducted by Simon-Kucher & Partners.
For businesses, weaving sustainability into your e-commerce logistics strategy will help attract consumer interest and drive profitability. The good news? More eco-friendly solutions are being introduced to the marketplace, making it pain-free for companies to implement sustainability into their supply chain.
What Is Sustainable E-Commerce Logistics?
Sustainable e-commerce logistics requires introducing processes, technologies, and materials across the supply chain rooted in improving your environmental, social, and economic impact. Whether that be the packaging materials your company uses, decreasing carbon emissions during last-mile delivery, or aligning with a more energy-efficient warehousing partner, there are several ways businesses can scale their e-commerce sustainability efforts.
Select a Reliable Warehouse Management System
If you make this step a top priority, the rest of the preparation process becomes a breeze. Delays in shipping or lost orders typically come down to an unorganized warehouse that makes finding, packing, and shipping products for that last-mile delivery unnecessarily complicated. This is where warehouse management systems come in, proactively organizing and strategizing your warehouse to optimize space, decrease costs, and increase visibility for everyone involved.
Our e-commerce customers at Smart Warehousing enjoy 1-2 day shipping on all orders with 99.8% inventory accuracy and complete visibility through our proprietary warehouse management system. This means you (and your customers!) will always know exactly where your orders are, where they are going, and when they will arrive at the final destination. This heightened visibility pairs with our logistics for forecasting to anticipate increases in orders and which products will fly off the shelves well in advance, so you're no longer trapped in the stress of reacting as order volume increases.
Create a Better Future With a Sustainable Supply Chain
Just as technology is ever evolving, the e-commerce logistics world is also expanding, with today's businesses emphasizing supply chain sustainability. The catalyst? As the e-commerce space grows, so does its impact on our environment. And as society looks towards shaping a better future and healthier planet, sustainability has moved to the forefront of corporate goals. Adopting a more sustainable e-commerce logistics strategy can greatly minimize environmental harm while optimizing efficiency across the supply chain.
A More Sustainable Supply Chain: By the Numbers
An estimated 1.8 billion people are expected to join the global consuming class by 2025 – a 75% increase from 2010.

Supply chains are responsible for over 90% of the impact on geological resources, air, water, land, and biodiversity.

Supply chains also account for over 80% of greenhouse gas emissions.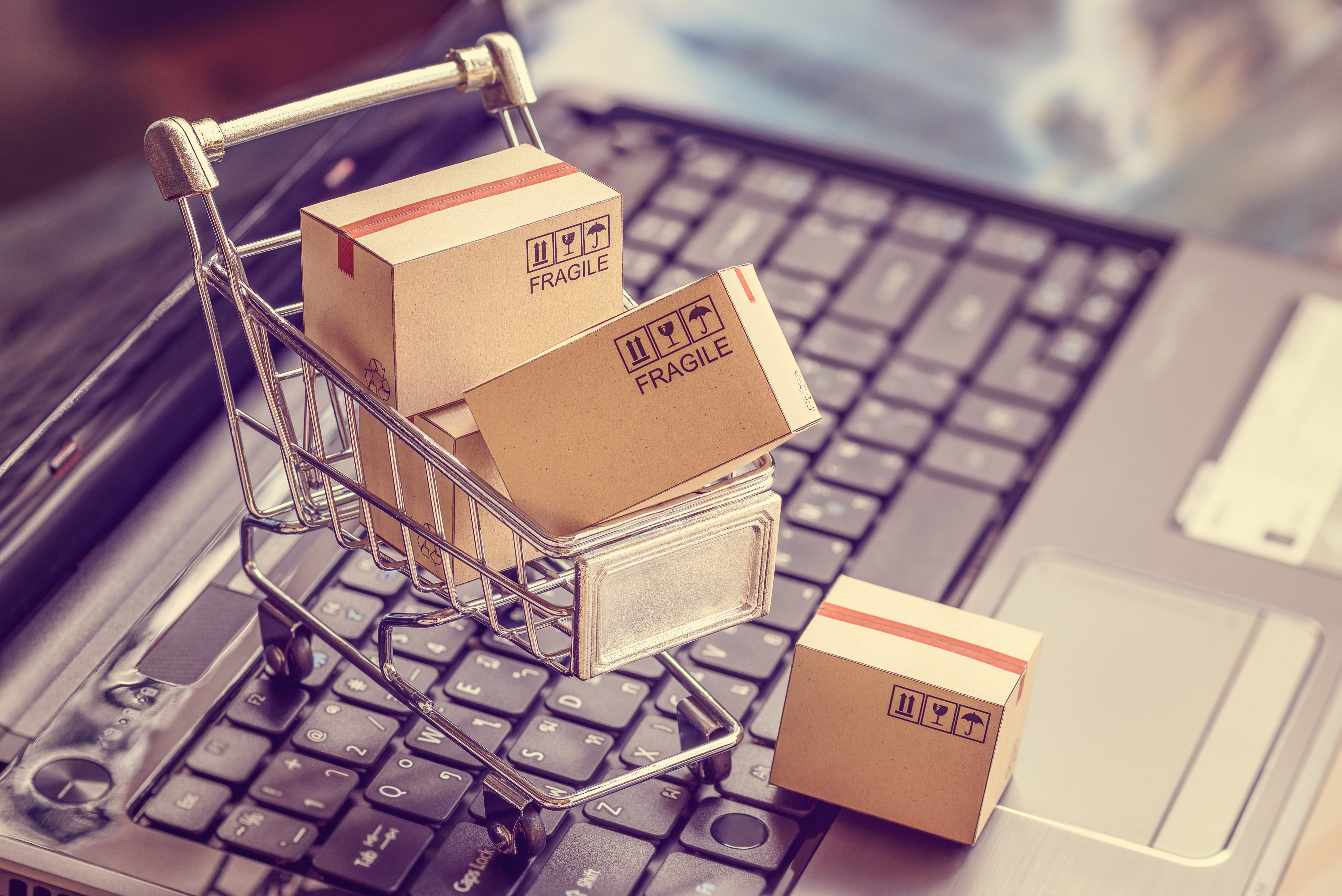 How Your E-Commerce Business Can Prioritize Sustainability
Adopting sustainability throughout the supply chain will benefit your business as well as customers, stakeholders, suppliers, and, of course, the planet. It simply requires your business to be conscious of the decisions you make – from the way you pack and ship orders to the types of vendors you partner with. Here's how to get started.
1. Establish Sustainability Goals and Metrics
To take the first step in your sustainability journey, begin crafting a list of the goals your organization would like to achieve and how you plan on measuring your progress towards those goals. Formulating a strong game plan will require you to assess your current operations to identify high-waste areas and what practices can be improved upon.
Think this is only for enterprise-level or corporate businesses? Think again. Setting sustainable supply chain goals can help you shape your e-commerce logistics strategy going forward, even if you're a startup or a small business.
Make sure sustainability initiatives are part of the conversation as you make decisions and implement new processes to optimize your e-commerce logistics. Once you establish sustainable supply chain goals, introduce new systems that'll aid in measuring the efficacy of your efforts. This includes subsequent communication on your progress to stakeholders, customers, and supply chain partners.
2. Adopt a Strong Inventory Management System
Whether you're selling meal prep kits or apparel, businesses often hemorrhage money from failing to manage their inventory properly. Popular fashion brand H&M, for instance, struggled with inventory management, which led to $4.3 billion in unsold apparel.
By not adequately forecasting demand, you run the risk of overstocking inventory. This surplus of stock will later fall victim to expiration dates, quality issues, or falling out of season. In short, unsold inventory can chip away at profit margins and add to your company's waste production.
Avoiding the unwanted fallout from overstocked (or understocked!) inventory requires businesses to implement a strong inventory management system. The right e-commerce logistics warehousing partner will provide the technology needed to track inventory in real-time, predict upcoming stock needs, and identify fast vs. slow-selling items. Whether you're a team of 1,500 or 15, the ability to forecast demand is indispensable – allowing your business to anticipate needs as well as greatly reduce waste and decrease overhead costs.
3. Make Data-Driven Decisions
Data provides a gateway to greater visibility across the supply chain. And, with enhanced visibility comes the ability to make data-driven decisions stemming from stocking inventory to efficiently shipping orders to the end customer.
One valuable way to utilize insights is to establish an inventory distribution strategy. By analyzing historical order data, your warehousing partner can identify where the bulk of your customers are located geographically and move your inventory closer to these high-volume markets. Doing so will allow you to satisfy consumer demand for quick shipping while leveraging the most cost-effective, fuel-efficient transportation route possible.
By harnessing the power of an inventory distribution model, you can adopt a more sustainable (and affordable) shipping strategy that simultaneously delivers a strong customer experience for your brand.
4. Lay The Right Foundation
The success of any new initiative is contingent upon the rules, regulations, and structure you put in place. After all, you can't expect progress to be made without establishing the right guidelines to follow.
Outlining policies and your sustainability goals will give you a foundation to adhere to and a way to scale these practices moving forward. What's more, a sustainability policy can serve as a way to exercise transparency, attract consumers that value eco-conscious brands, and hold your e-commerce logistics partners accountable for meeting certain standards.
5. Ensure Expectations Are Communicated to Partners
Once you develop a sustainable supply chain policy, it's pivotal to ensure you're partnering with suppliers and manufacturers that align with your vision and goals. From where your products are being sourced to how they are stored and transported, be sure to communicate your expectations surrounding key sustainability factors, such as
Energy use

Labor conditions and fair wages

Recycling

Carbon emissions

Health and safety

Water use/treatment
6. Explore Options
There are a wide variety of options for e-commerce logistics, shipping, and transportation. Your third-party logistics partner will have an established carrier network you can lean on to optimize transportation routes and minimize shipping times. The solution you ultimately elect to use can be factored into your marketing efforts as a way to communicate to customers the steps you're taking to reduce your carbon footprint.
Similarly, your return management strategy offers another outlet for minimizing your waste production and carbon emissions. For instance, you can opt to include a prepaid return label and instructions in your packaging that advises recipients to return items in the same box, reducing packaging and ensuring returned packages are recycled.
Scale Your E-Commerce Logistics The Sustainable Way
Building a sustainable supply chain not only positively impacts your business – decreasing costs, improving brand equity, and driving profitability – but it also has the power to create a better tomorrow for our planet.
And to be clear: your business doesn't have to completely change its business model to implement improvements and begin making strides toward a more sustainable supply chain. All it takes is the right partners to ensure your efforts are gaining forward momentum. At Smart Warehousing, we're helping businesses adopt a more sustainable supply chain through innovative processes, e-commerce logistics, and technology designed to support greener solutions.
Discover how the Smart Warehousing team can propel your sustainability efforts to new heights by contacting us today.